Outdoor Decor
Discover lots of outdoor decor ideas to decorate your yard, balcony, patio, deck or porch right here at Home Sweet Decor.  Decorate with beautiful outdoor furniture, lighting and more to make it the haven you'll enjoy year round.

There's nothing like being outside enjoying my garden, a good book or my knitting and a glass of iced tea, relaxing in the shade in my favorite patio lounge chair.  We all have different outdoor activities we enjoy in our backyard spaces, but to be able to enjoy those wonderful spaces ~ we need outdoor furniture that we like and that fits our lifestyle.   Creating an inviting outdoor area takes a bit of thought and I'm here to work through the planning and creating of your special backyard getaway with you.
Are you decorating your new outdoor space or redecorating your existing backyard?  Are you looking for some decorating ideas for your outdoor decor?  Decorating your backyard creates that wonderfully relaxing atmosphere you can enjoy and share with family and friends.   But how do we get there from here?
Featured Image: Home Styles 5554-338 Biscayne 7-Piece Outdoor Dining Set, Black Finish
What's Your Outdoor Decor Style?
Do you like whimsical fantasy creatures decorating your flower gardens as though they're frolicking through the roses?  Or do you like wrought iron structures?  In all the times I've decorated my backyard, I've tried to choose different styles.  Once I chose a butterfly theme and had butterflies everywhere – I loved that one.  Bird feeders are what I like right now, so I have all manner of bird feeders hanging strategically around.  What do you enjoy outdoors?
Buddha Sitting StoneSee At Pier 1 Imports
Pedestal Birdbath with DovesSee At Pier 1 Imports
Cara Garden StoolSee At Pier 1 Imports
Glass Drink Dispenser with StandSee At Pier 1 Imports
Kaleidoscope Mosaic LanternSee At Pier 1 Imports
Lion Statues with Paw on BallSee At Pier 1 Imports
Calliope Mum Rugs – RedSee At Pier 1 Imports
Choosing Your Outdoor Patio Furniture
Considering what an investment our patio furniture is, you'll want to invest in the best quality outdoor furniture that you can afford.    Think about:
What kind of maintenance will your outdoor furniture require? How much work will it be to care for it?  What would you need to do to maintain wicker furniture as opposed to wood, plastic, rattan or metal?
How much furniture are you thinking of using?  Do you just need a few chairs and a fire pit?  Do you want a couple of table and chair sets?  The amount of furniture you want has a direct bearing on the cost, don't forget.
What do you prefer – cushions, straps or sling sets?  Cushions are the most comfortable, but they're the most expensive as well.
Are you partial to fabric or acrylic materials?  You'll want to look for washable coverings that won't easily fade, won't mildew and resists stains.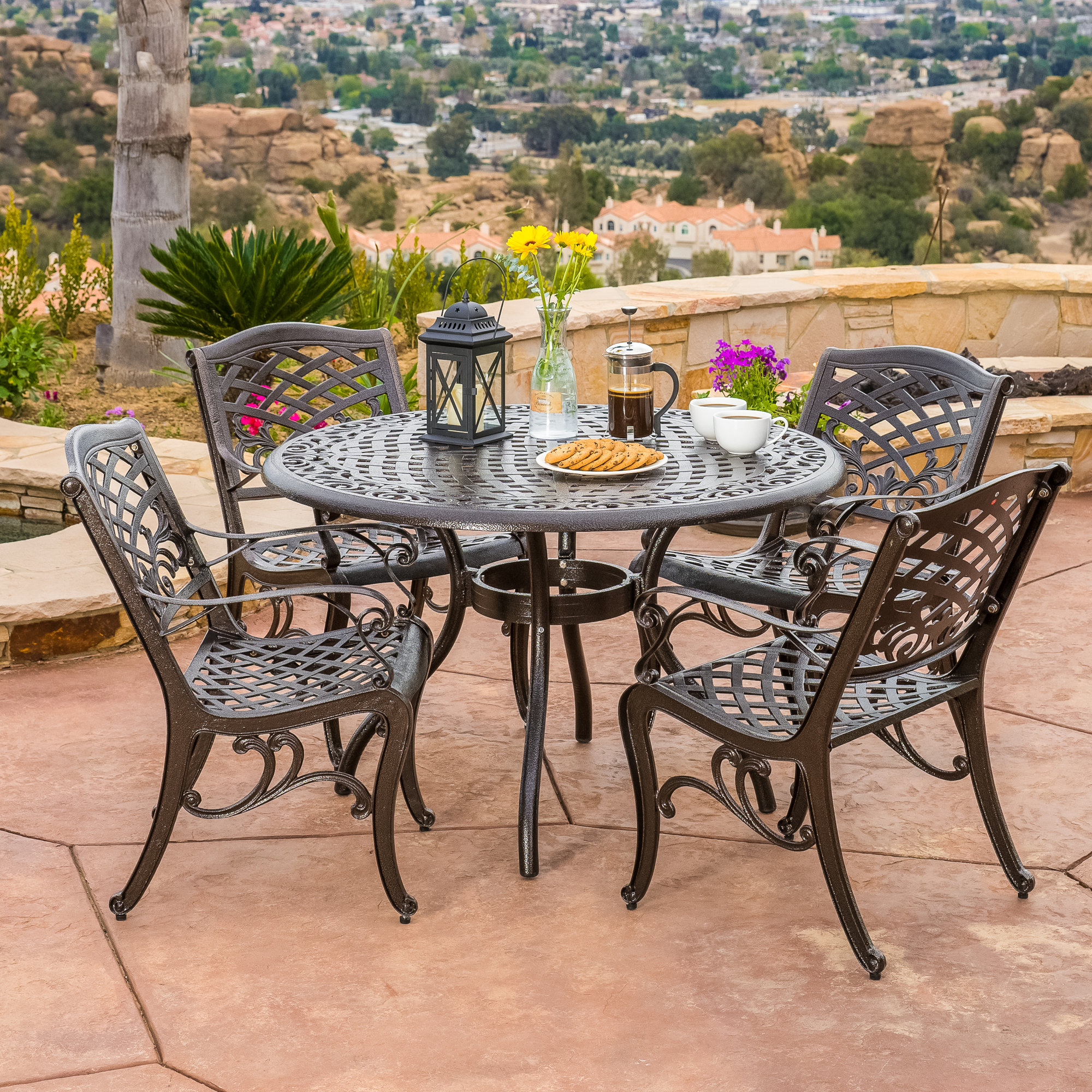 Home Loft 5 Piece Outdoor Dining SetSee At Wayfair
Home Styles 5 Piece Outdoor Dining SetSee At Wayfair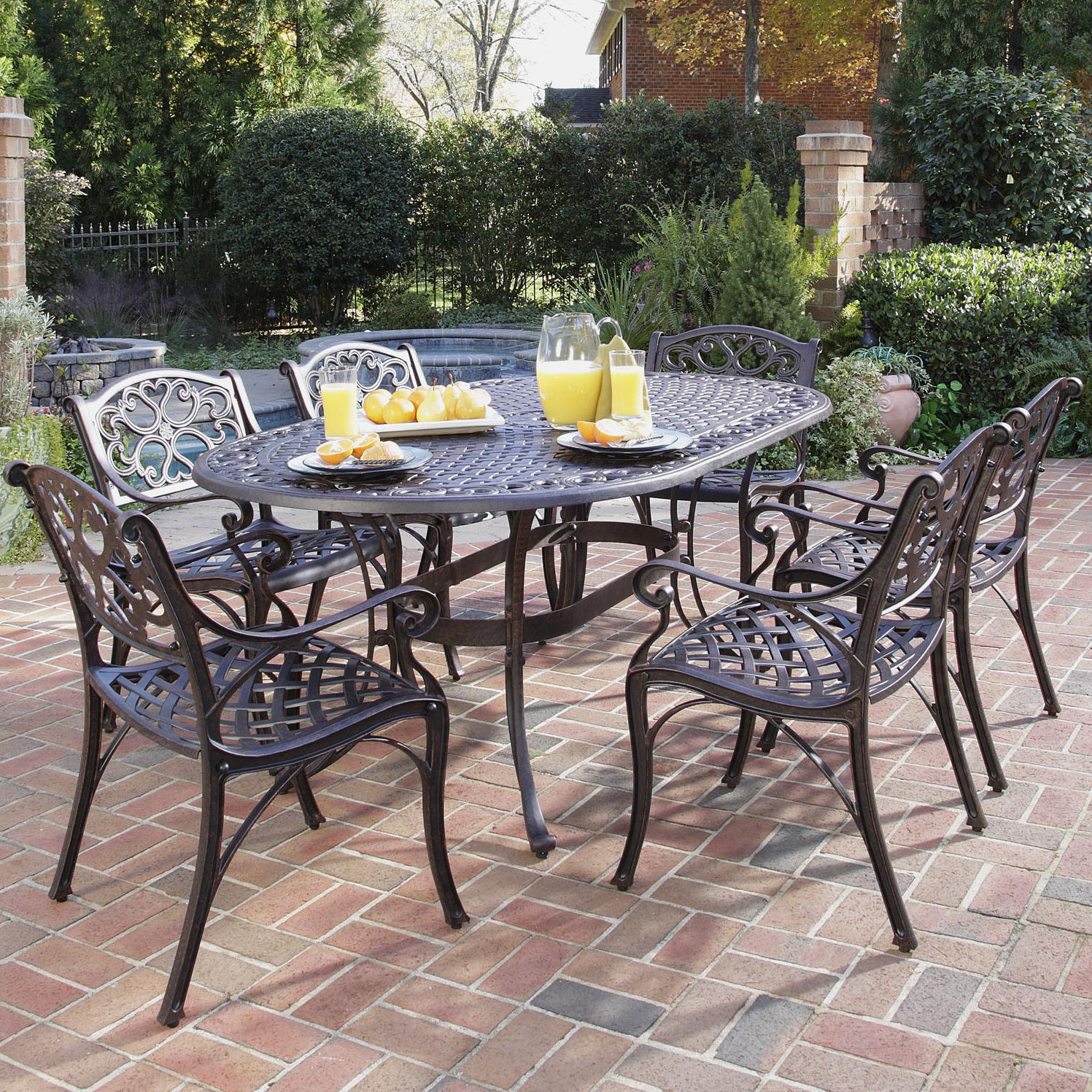 Home Styles Biscayne 7 Piece Dining SetSee At Wayfair
Does all this talk about choosing outdoor decor sound like a lot already?  Don't worry!  I'm hoping to redecorate my current backyard in the next few months, so we'll work on this together and have some fun as we go along.  How about that?
Keep an eye out for new posts and pages about outdoor decorating ideas and we'll see you again soon ok?


(Visited 105 times, 1 visits today)