Dog wall clocks bring a smile to all dog lovers. Dogs work their way into our hearts and those of us who love dogs, love having images of dogs all over. A dog wall clock will make a perfect gift idea for the dog lover in your life ~ even if that's you!
Wall clocks are almost a necessity, but who says they can't be fun? A barking dog wall clock, for example, will bring a chuckle from just about anyone!
Let me show you some of the wonderful dog clocks I found recently. Will you have as hard a time picking a fun dog wall clock as I did?
Dog With Bone Wall Clock; Tail Pendulum
Allen Designs Roofus Dog Pendulum Clock
Silent Dog Wall Clocks with Wagging Tail
Allen Designs Dog Pendulum Wall Clock
Large 10.5″ Wall Clock DOG IN FENCE
10.5″ FRENCH BULLDOG PUPPY CLOCK
Cute Wet Shitzu Dog Round Wall Clock
Roger Lascelles Play Wall Clock, 14.2-Inch
You know dogs can tell time, right? At least I know mine do. They know 6:30 is time to get up & go outside; 4:00 is time for our walk, and 10:00 is time for "last pee" and bed time. Not only that, but I'm convinced they can spell too. We spell out w-a-l-k or t-r-e-a-t-s and they are ready for action. LOL Real comedians!
Dog Clocks On Zazzle
These dog wall clocks are original designs from talented artists on Zazzle. Use them in your kitchen, bathroom, living room, a child's or adult's bedroom, etc. You can also dress up your wall at work with an attractive dog wall clock! Dog lovers and animal enthusiasts alike will love these clocks!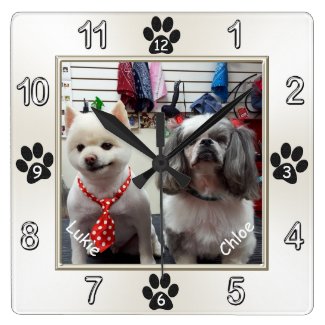 Adorable Dog Wall Clock with YOUR PHOTO and NAMES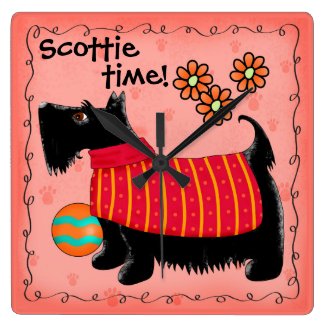 Black Scottie Time Dog Personalized Red Orange Square Wall Clock

happy dog art large clock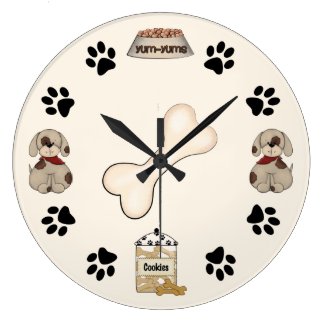 Cute Puppy Dogs, Paw Prints and Bone Large Clock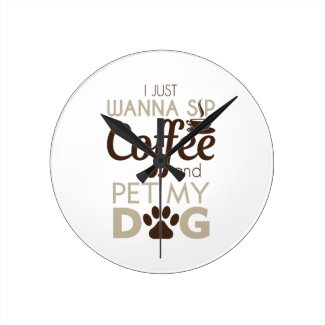 Coffee Pet My Dog Round Clock

Pug Girl Bath Time Large Clock

Dog Wall Clocks on eBay
What a fun collection of dog wall clocks on eBay! I always get a kick out of the unique items you can find for sale on eBay and these dog wall clocks are pretty unique, wouldn't you say?
(Visited 255 times, 1 visits today)