You'll find a wonderful selection of some of the best dorm room essentials for college students here!  What will the new college student need for their dorm room so that they get a great start to the new school year?
The college dorm room essentials featured here are must have items for dorm life.
Having a son or daughter going away to college?  It's an emotional time when the fledgling leaves the nest for the first time.  Wasn't it just yesterday that they were learning to ride bikes?  It's also a busy time, especially for moms who are helping organize the move into a college dorm room.
These college dorm room items also make great gifts for any returning college students in your life, too. I'm sure they'd appreciate anything that gives them a little bit of that comfort of home while they're away.
The dorm room essentials for college students you see here are just the tip of the iceberg when it comes to setting up your son or daughter in a college dorm or apartment. So much to worry about, and so much to do!
I have devoted an entire section of this web site to college dorm life, with all KINDS of items designed to make your child's college life a little more comfortable. Be sure to check them out!
College Dorm Room Essentials: Bath & Grooming Caddies
Curling irons, blow dryers, brushes, combs…and all their favorite hair products…oh my! Then, there's makeup…and more hair products! Help your student get it all together and keep it together with a grooming caddy…or two.
Whether your young student has a bathroom all to him/herself or they share a bath with other students, old school (pardon the pun), there's a great selection of bath and grooming caddies.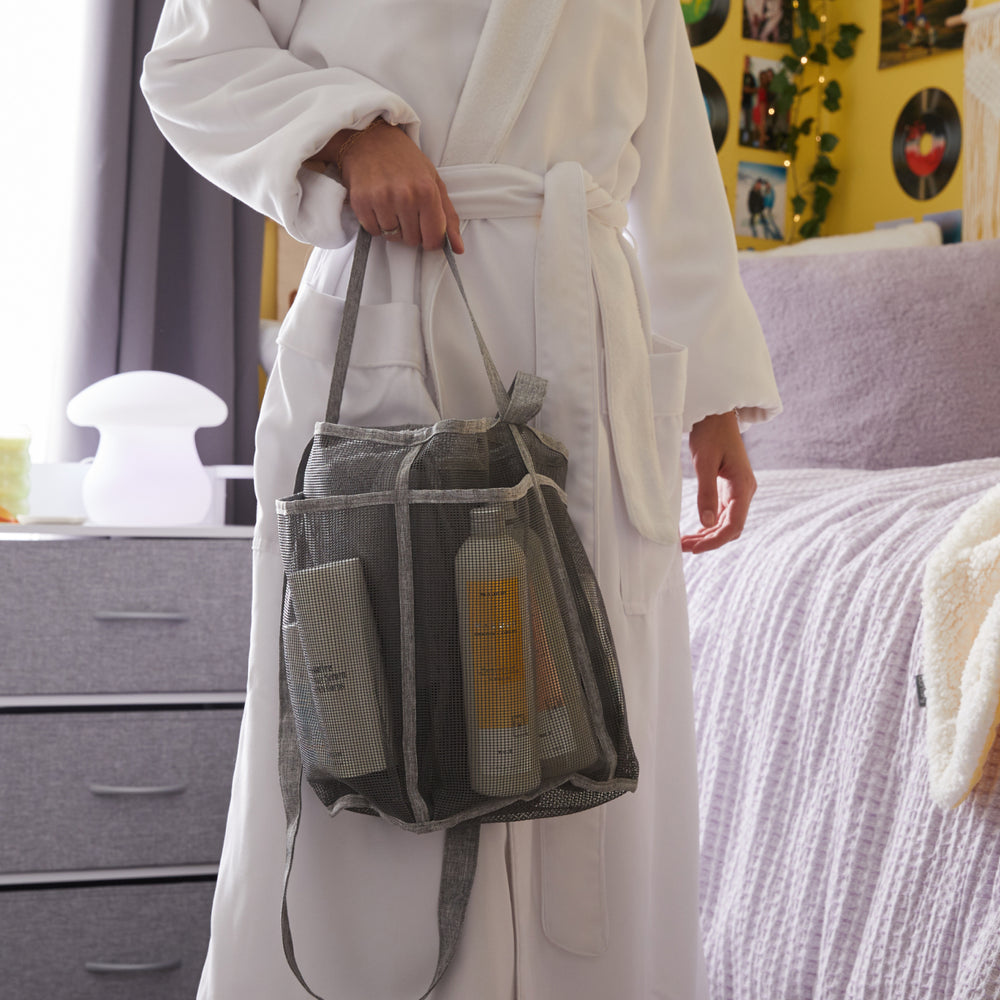 7 Pocket Shower ToteDormify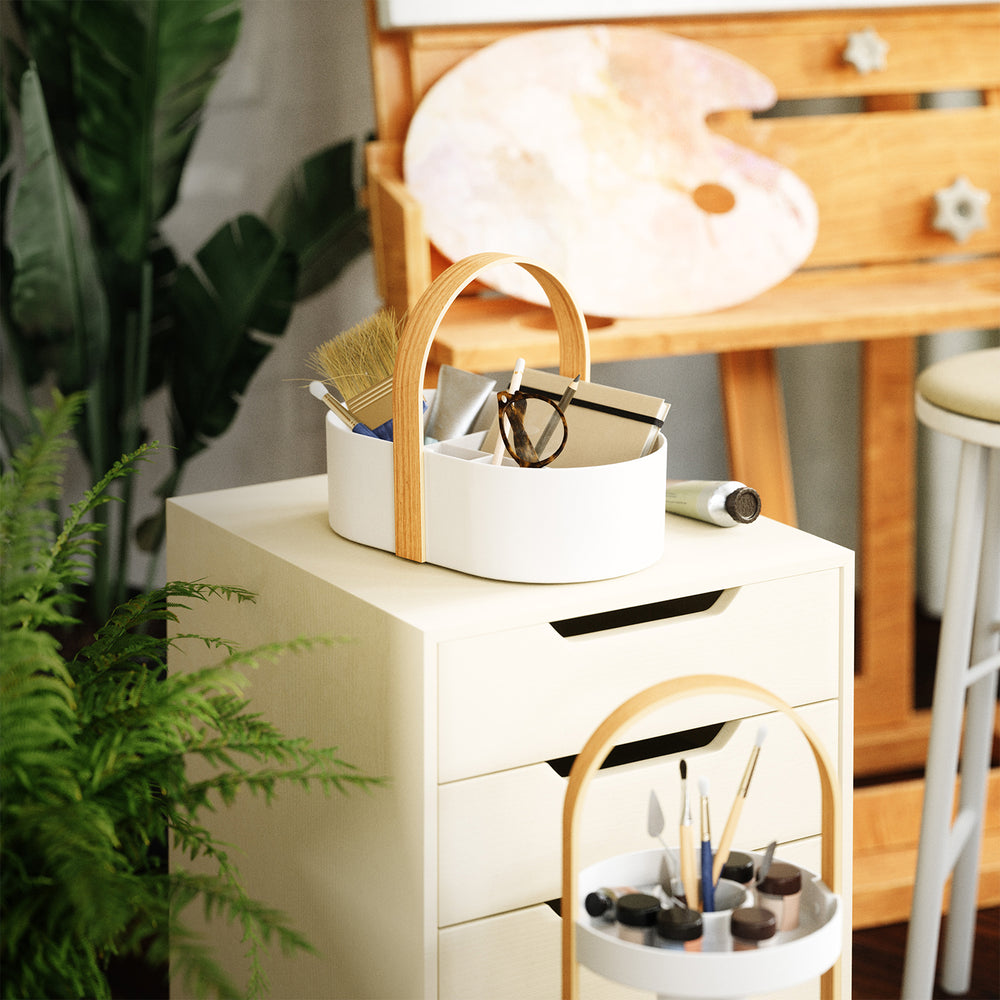 Bellwood CaddyDormify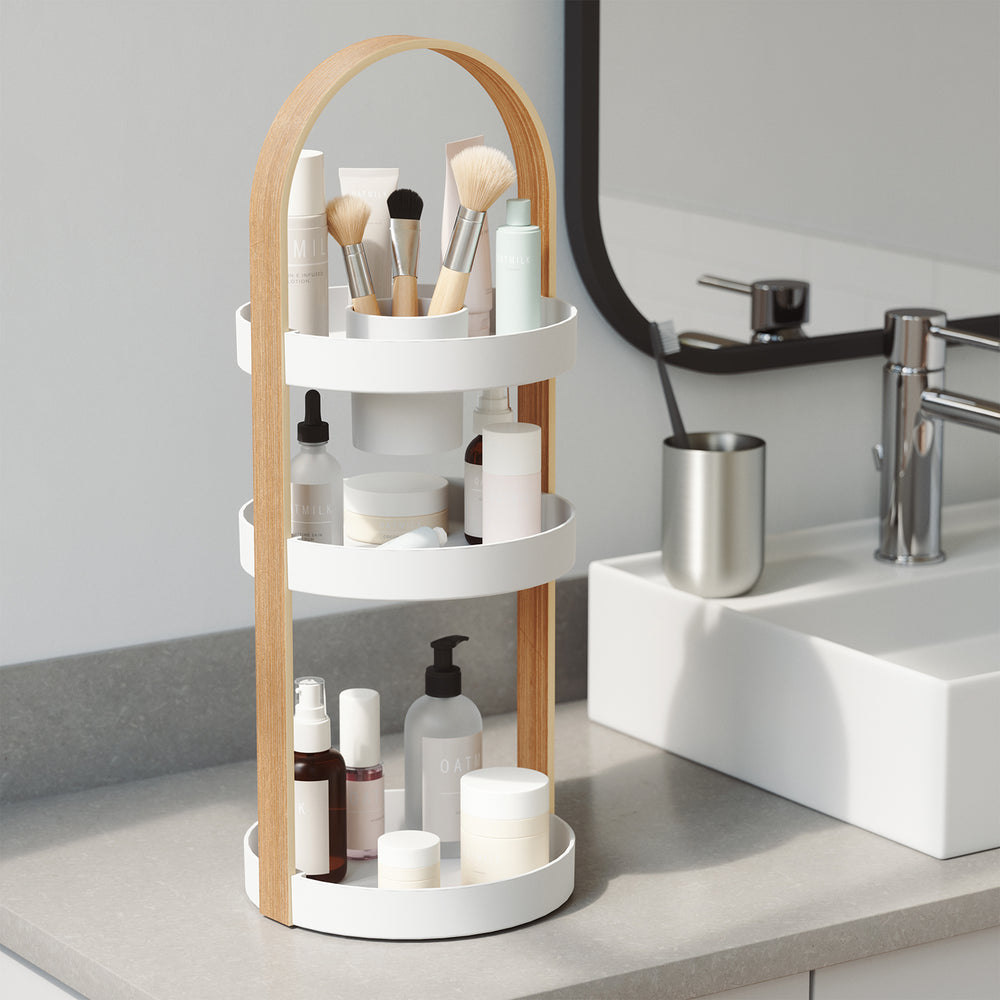 Bellwood Cosmetic OrganizerDormify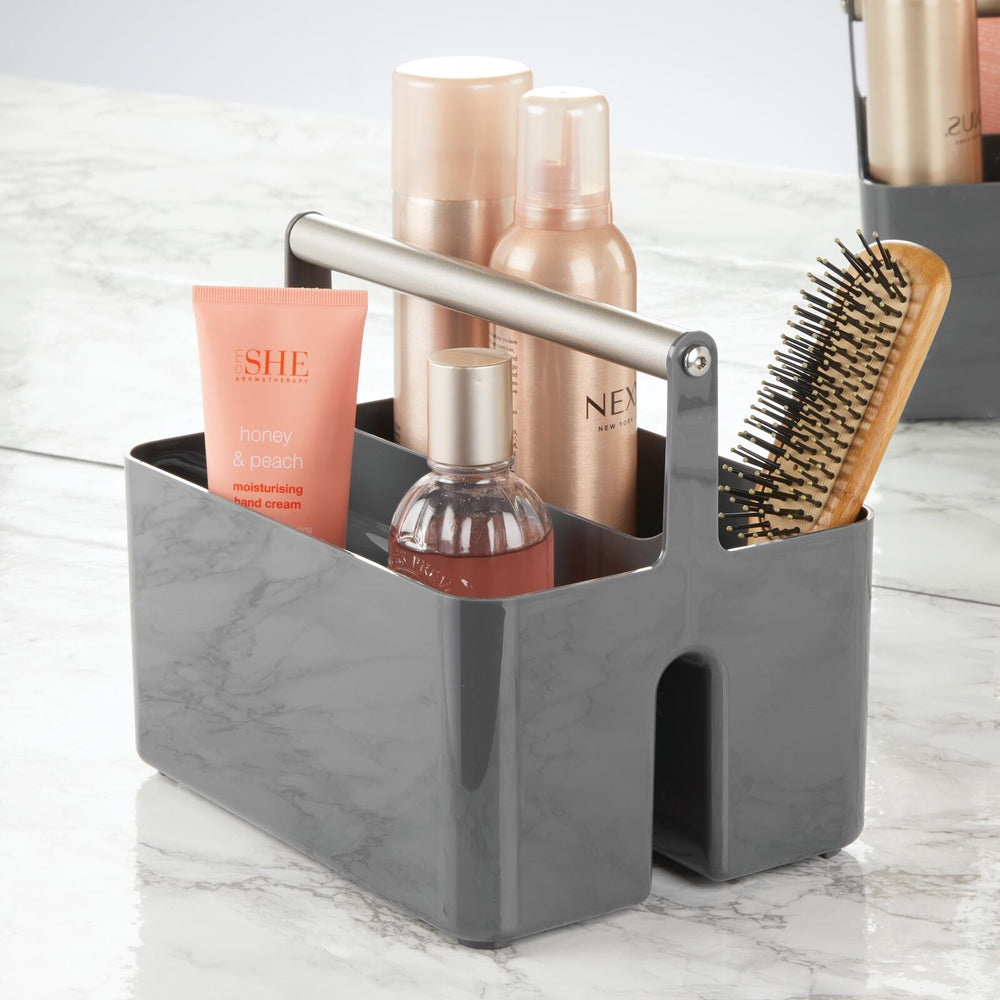 mDesign Solid Shower Caddy OrganizerDormify
Mesh Shower Caddy Dorm, Bathroom, Gym, Quick Dry
Caddy Basket Plastic Storage Shower Caddy
Shower Caddy, College Dorm Room Essentials
Dorm Room Essentials For College Students: Laundry
Round Cotton Rope Laundry Hamper
Dormify
Laundry, laundry everywhere! Whether your young man or young lady will be bringing their laundry home to mom or dad or whether they'll be doing it themselves, they'll need some manner of keeping it together and tidy. Well, at least as 'together' as college students keep their laundry anyway!
A laundry bag is a handy way to carry their dirty laundry from here to there and back again without having to air that dirty laundry. Sorry, I can't resist a good pun.
In the "old days" when I went to school, you could choose from a few duffle bags. But today, there are so many choices that are both handy AND attractive.
Collapsible Oxford Fabric Laundry Hamper
Narrow Laundry Hamper; Removable Bag
Laundry Bag with Shoulder Straps and Mesh Pocket
Laundry Hamper With Lid – 120L Dirty Clothes Hamper With Removable Bag
College Dorm Room Essentials: Storage Ideas
College students have a lot of stuff. They bring stuff from home, like their clothes, pillows, books, music, video games and more. Then, they acquire new stuff for school, like text books, backpacks, athletic wear, school supplies and personal grooming products.  Where ever will they keep it all while they're away? 
Here are just a few really good ideas for college dorm room storage solutions that won't break the bank and still manage to look very cool indeed. Help them keep their 'stuff' handy.
Large Fabric Underbed Storage Set

Under the bed storage bags are perfect for clothes, bedding, etc. But think about storing snacks and school supplies in these handy dandy under bed bags.
Out of room under the bed? Stack them on the closet shelf or floor. And don't miss the space under a dresser or desk. That versatility is what I like about these under bed storage bags.
I've used them for storing craft supplies, Christmas gifts and all sorts of my own 'stuff.' I bet you can think of more!
Sutton Charging 3-Drawer Cart on WheelsDormify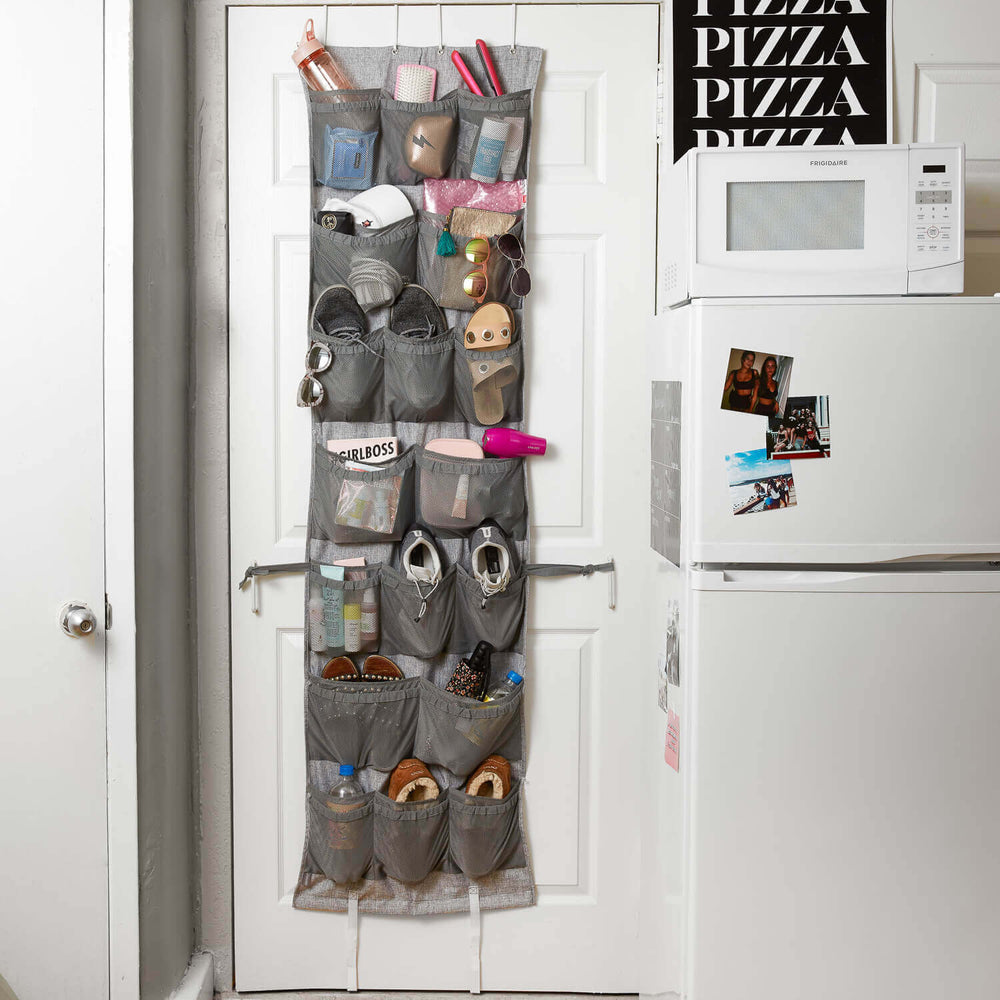 36 Pocket Over the Door OrganizerDormify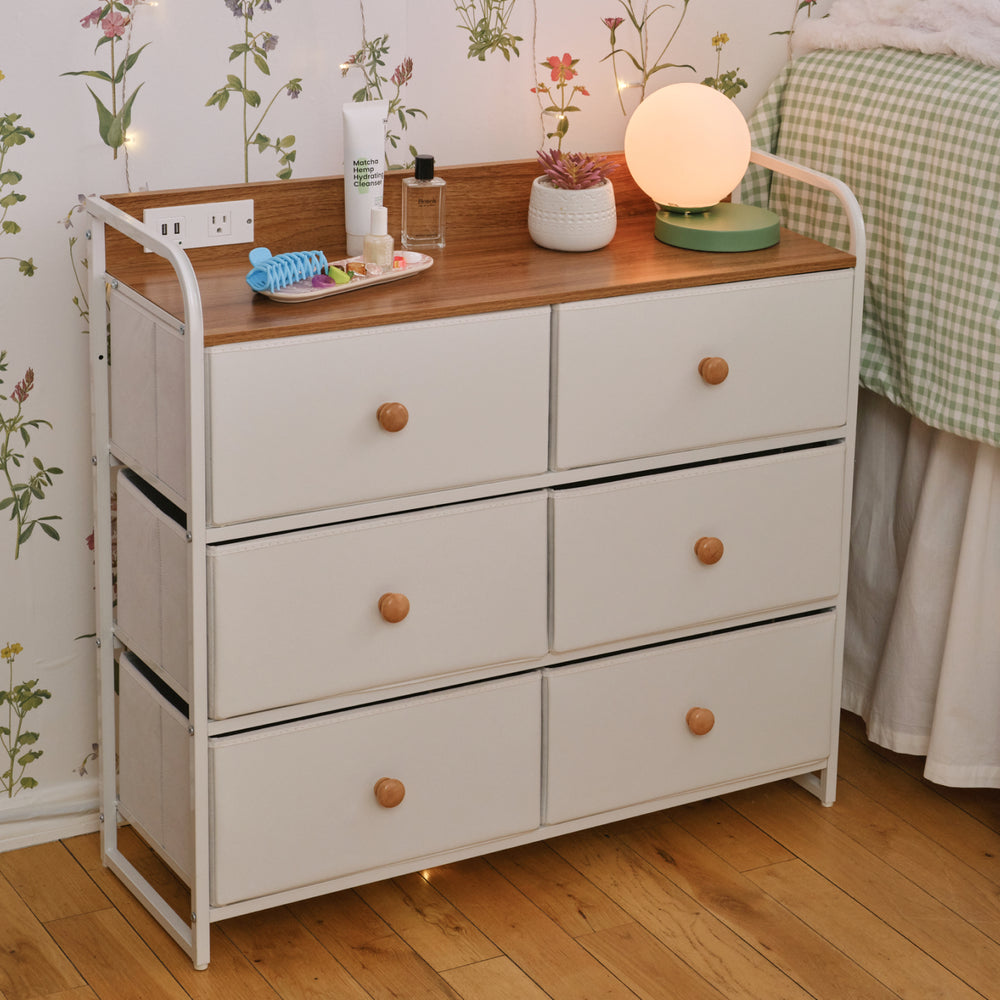 Cameron Charging 6-Drawer Storage UnitDormify
Suprima® Rolling Mini Fridge OrganizerDormify
Lamps Are Essential In Any College Dorm Room
Lighting is essential for those hard-studying students! Especially for their desks. Nowadays, lamps can do extra duties like charging a phone, showing the time and date and more. That's what I call handy!
I saw some that had multiple USB charging ports with multiple AC power ports and the lamps have 2 or more light modes. You might want to check these out but I worry that they'd get really hot & cause a fire. Not saying they're poorly made but it's human nature to want to use ALL the plugs available with the lamp and sometimes even leave it on. But I'll leave all that up to you.
LED Desk Lamp with Wireless Charger, USB Charging Port, Clock, Alarm, Date, Temp
Small Desk Lamp with USB Charging Port, Pen Holder, Battery Display
Bedside Lamps Set of 2, Table Lamps with Dual USB Quick AC Charging Ports
Set of 2 Touch Control Table Lamps with 2 USB & AC Outlet, 3-Way Dimmable
College Dorm Room Essentials On eBay
(Visited 967 times, 1 visits today)