Fall celebrations call for great Fall Tablecloths to accent our holiday tables and brighten the holiday festivities. Entertaining in the Fall calls for rich colors for enjoyment of bountiful flavors of the Fall harvest.
Bring those lovely Fall colors into your dining room decor with some great Fall tablecloths. Tablecloths serve not only to protect our dining tables, decorative tablecloths are the foundation of our dining room decor.
Coordinate your Fall tablecloths with centerpieces following the themes of the Fall Harvest, Autumn Blessings and of course, Thanksgiving itself. On this page, you will find beautiful Fall tablecloths in variety of colors, designs and fabrics.
Your celebrations will bring ooo's and ahhh's from family and friends over your beautifully decorated holiday table! Be sure to pick up the matching napkins. A table runner looks lovely over a tablecloth, so I've included some below.
Imagine a patterned tablecloth with your favorite Fall colors, with coordinating napkins at each table setting. Add a deep brown table runner down the center to accent the pattern under it. Now that's a great start to your holiday decorating.
Fall Plaid Tablecloths
Fall Round Tablecloths
Fall Fabric Tablecloths
Fall Vinyl Tablecloths
Wayfair Has Beautiful Fall Tablecloths
A selection of eye catching Fall tablecloths, these beauties are from Wayfair. Wayfair has become a really popular place to shop for home decor online. The prices are awesome, shipping is free on orders over $49 and the selection just cannot be beat.
They're available in different sizes AND shapes. Imagine your Fall decorations and tableware on one of these tablecloths. Can you say STUNNING?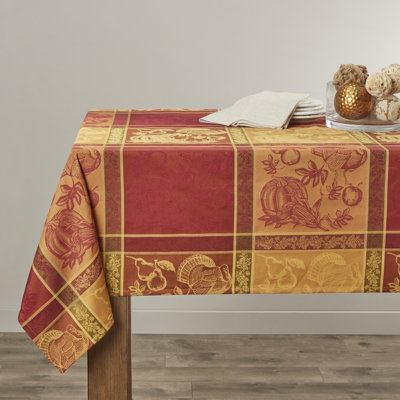 Thanksgiving Tablecloth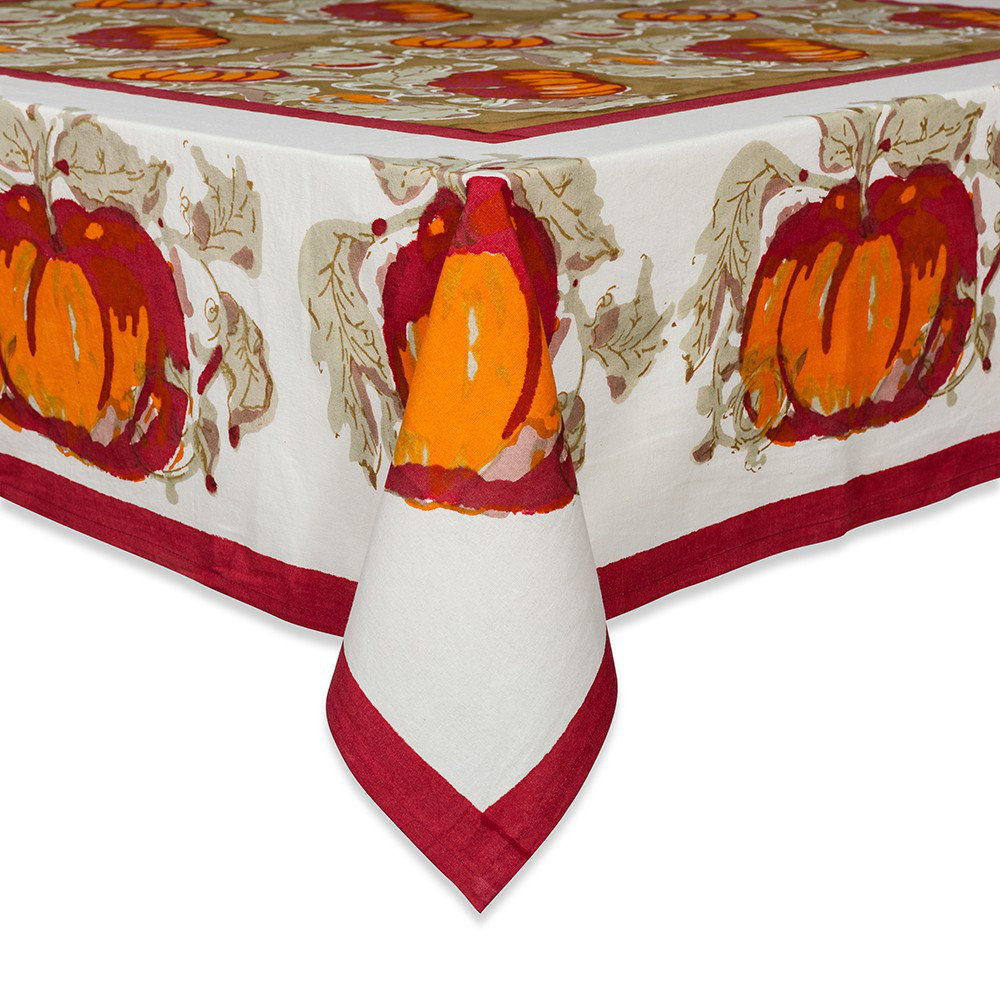 Pumpkin Tablecloth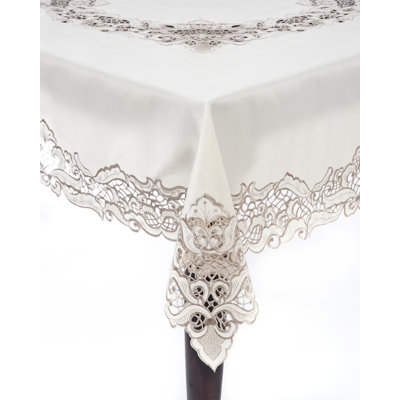 Embroidered & Cutwork Tablecloth

Leaf Embroidered Cutwork Tablecloth

Rustic Leaves Print Tablecloth

Pumpkin Patch Plaid Tablecloth

&

Featured Image:  Thanksgiving Dinner by Ernesto Andrade on Flickr, Commons 2.0
Rectangular Fall Tablecloths on Amazon
Fall tablecloths with beautiful Fall prints on them are still a great choice for your Fall and Thanksgiving table. They add charm and warmth to the Fall decorations. In fact, these rectangular fabric tablecloths are just as reasonable as the solid tablecloths above. I think they're very nice too, don't you?
Autumn Leaves Fall Fabric Tablecloth

Fall Harvest Tablecloth

Tablecloths – Fall Harvest Autumn Leaves

Harvest Splendor Tablecloth

Harvest Royalty Jacquard Tablecloth

Thanksgiving Fabric Tablecloth

&
Beautiful Round Linen Fall Tablecloths
I am blessed to have my mother's antique round dinner table and I love it. I have several round tablecloths for the different seasons. My favorite is the tablecloth I crocheted for her for Mother's Day. Something about a round table with a beautiful tablecloth on it just says cozy to me.
If you have a round dining table, treat yourself to a handmade tablecloth from Etsy.  You can even order them 'made to order.'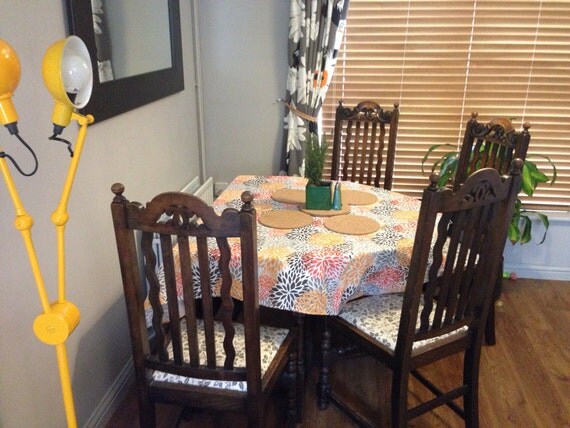 FALL MUMS TABLECLOTH; Made To Order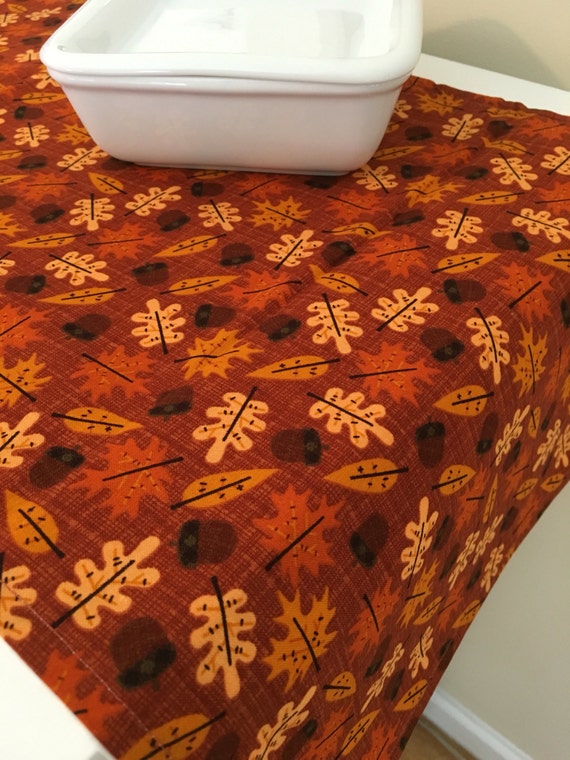 Made To Order Tablecloth | Fall | Round; Choice Of Fabric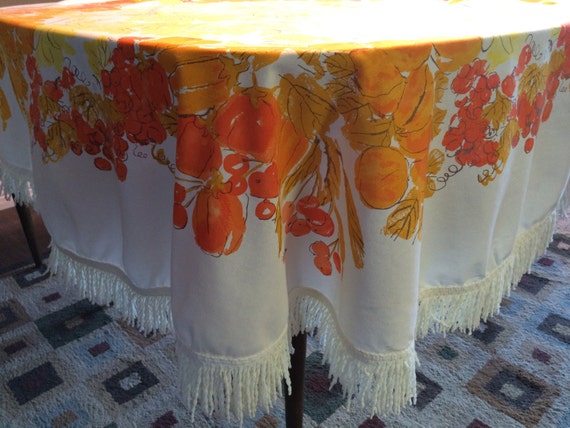 Vera Neumann Tablecloth with 4 Napkins – Vintage Table Linens

&
Eye-Catching Fall Tablecloths
Look what I found at Zazzle!  I didn't even know they had tablecloths, lol.  These are absolutely gorgeous tablecloths designed by the artists at Zazzle.  Beautiful bold colors on 100% cotton will make a bold statement for your Fall table.  Here are some of the prettiest I found: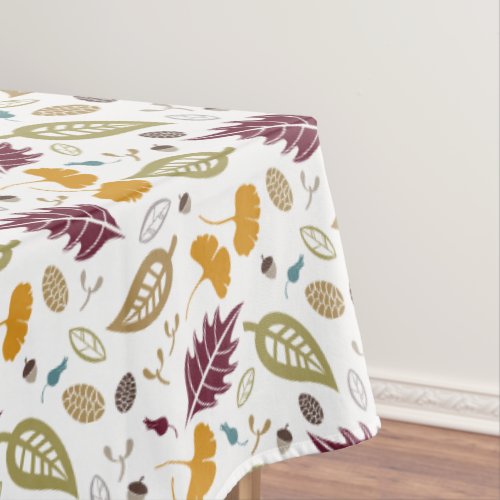 Fall Leaf Table Cloth Tablecloth

Red Yellow Orange Diamond Argyle Plaid Pattern Tablecloth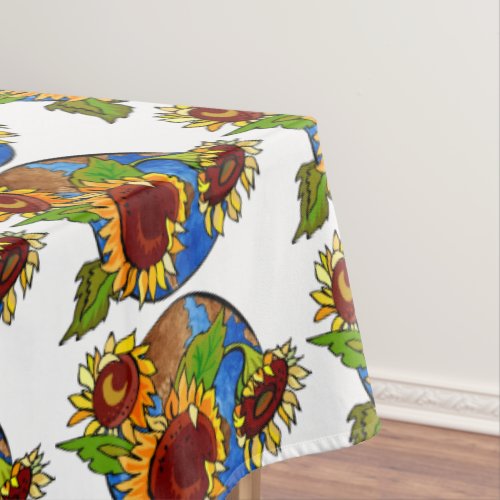 Sunflower Planet Tablecloth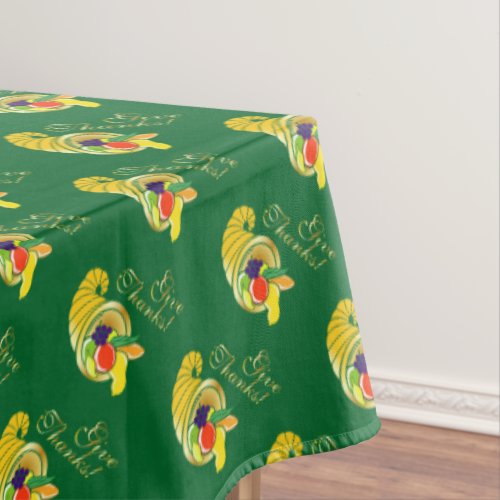 Cornucopia Tablecloth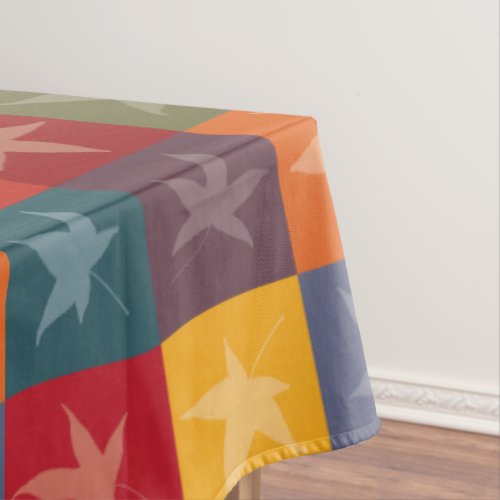 Elegant Autumn Foliage Checkerboard Pattern Tablecloth

Pretty Fall Leaves Tablecloth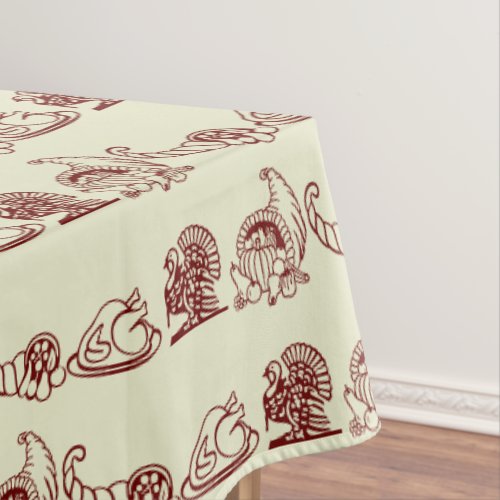 THANKSGIVING TRADITIONAL table cloth Tablecloth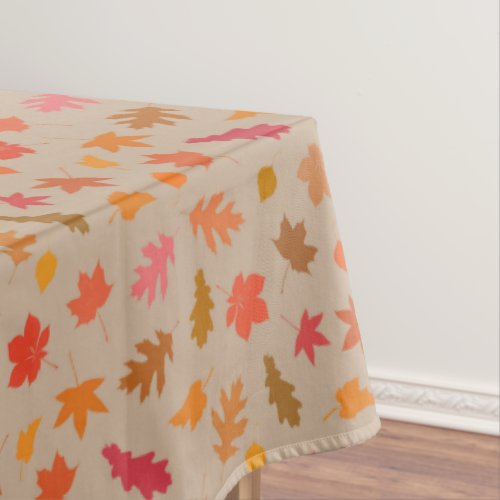 Fall Colors Pattern Art Tablecloth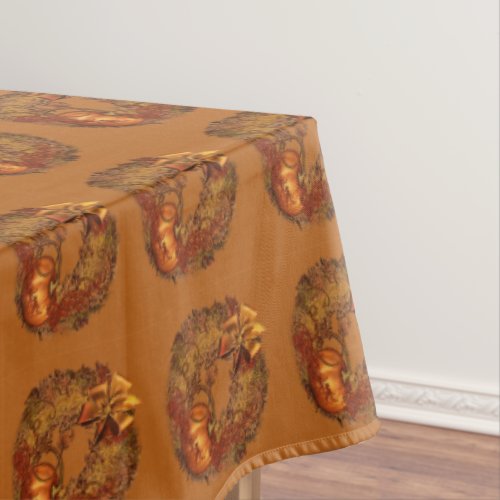 Autumn Pumpkin Wreath Thanksgiving Tablecloth

Thanksgiving dinner tablecloth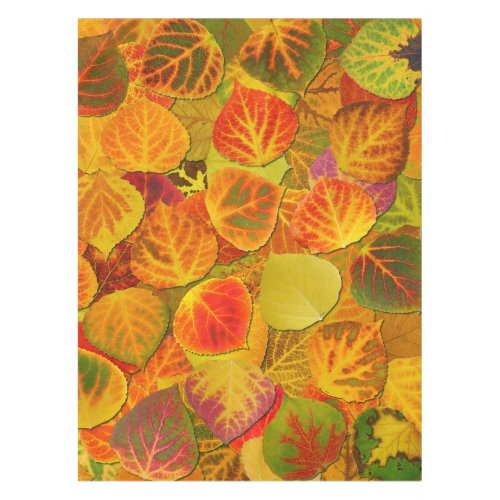 Aspen Leaves Collage Solid Medley 1 Tablecloth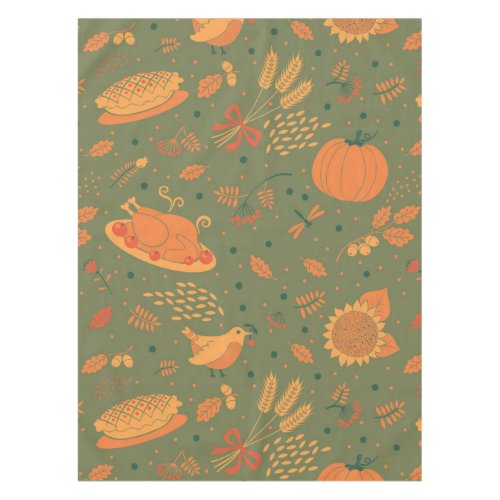 Abstract Autum Harvest Pattern Tablecloth

&
Nice Selection Of Fall Table Runners
Take your Fall dining room decor up a notch by adding a table runner over your tablecloth to add a bit of elegance. Or, use the table runner alone in place of a tablecloth for just a touch of Fall atmosphere in your dining room. Coordinate your tablecloth with your table runner and you have a winning combination that will have everyone complimenting your Fall decor.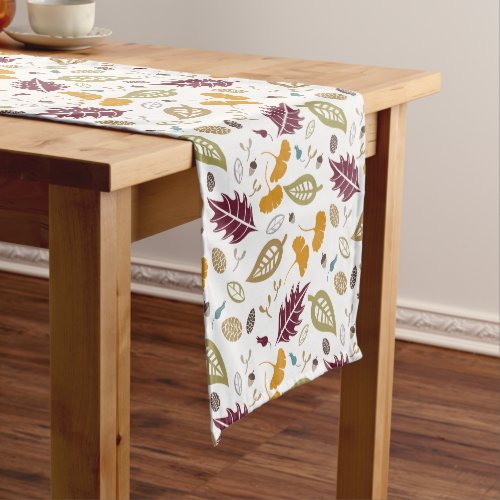 Fall Leaf Table Runner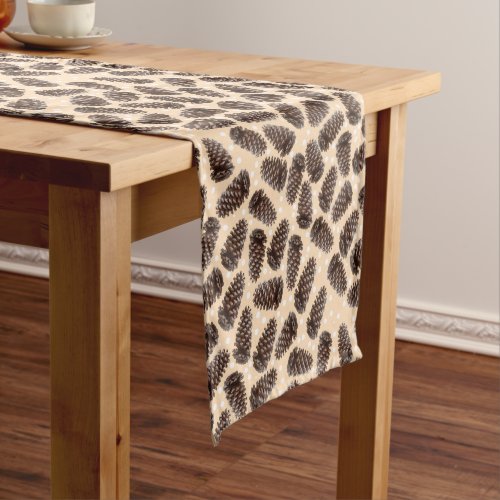 Harvest Fall Pine Cones Short Table Runner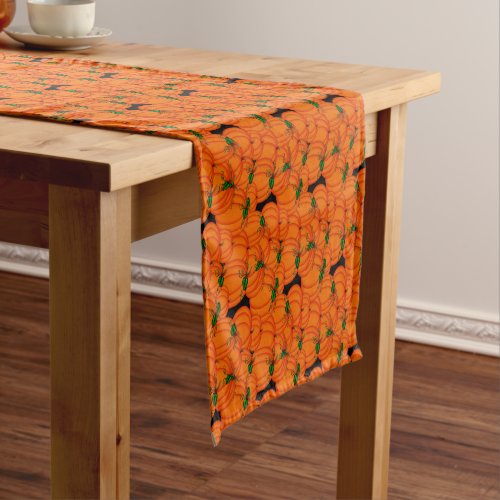 Pumpkin Patch-1-COTTON TABLE RUNNER 14x72in

Red Yellow Orange Diamond Argyle Plaid Pattern Short Table Runner

&
Great Fall Tablecloths on eBay
Whatever you do, don't forget to check the deals on great Fall tablecloths on eBay.  The bargains are fabulous and the choices are always fun!  Better be quick though before someone snaps up that Fall tablecloth you have your eye on!
(Visited 1,238 times, 1 visits today)