Dog stairs and dog ramps give our dogs an easier way to get up and down from the bed or sofa if they are disabled, a small dog or an elder dog.
As our dogs get older, it gets harder on their joints for them to jump and/or climb onto their favorite spot on your bed or couch. Jumping down can cause injuries.
I noticed my Toby, a black lab, started limping sometimes, after jumping down off our bed when he got to be older. Now, our Claire is getting older and she's having trouble jumping down off the bed.
Dog stairs are a wonderful idea to give your beloved dog a little comfort and relief. It helps them keep their independence and continue to reach sofas, beds and more.
After all, what makes our pets happiest is when they can be right there with us.
Is your dog having trouble getting up on the couch, chair or the bed? Check out this Guide To Buying The Best Dogs Stairs For Your Dog.
I think you'll like the suggested dog ramps and dog stairs I have for you too.
Featured Image: Pet Gear Easy Step III Pet Stairs, 3-step/for cats and dogs up to 150-pounds, Chocolate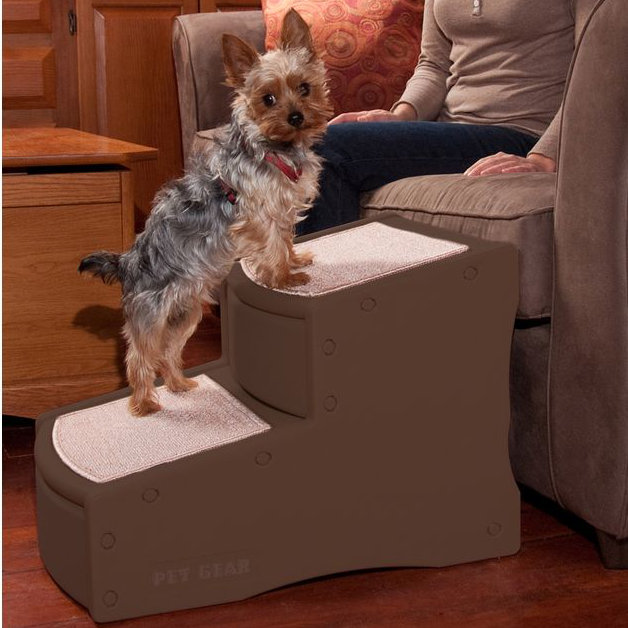 Easy Step II 2 Step Pet Stair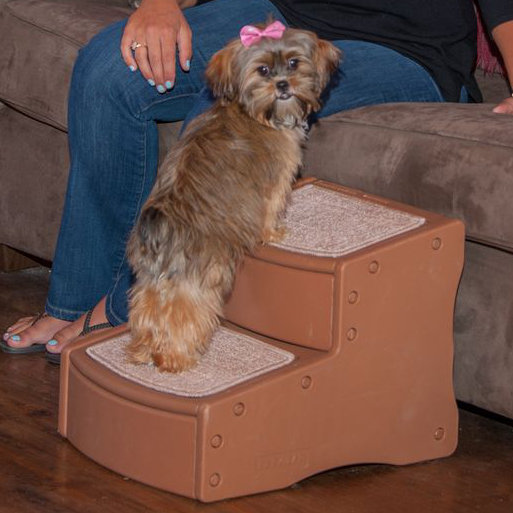 Easy Step II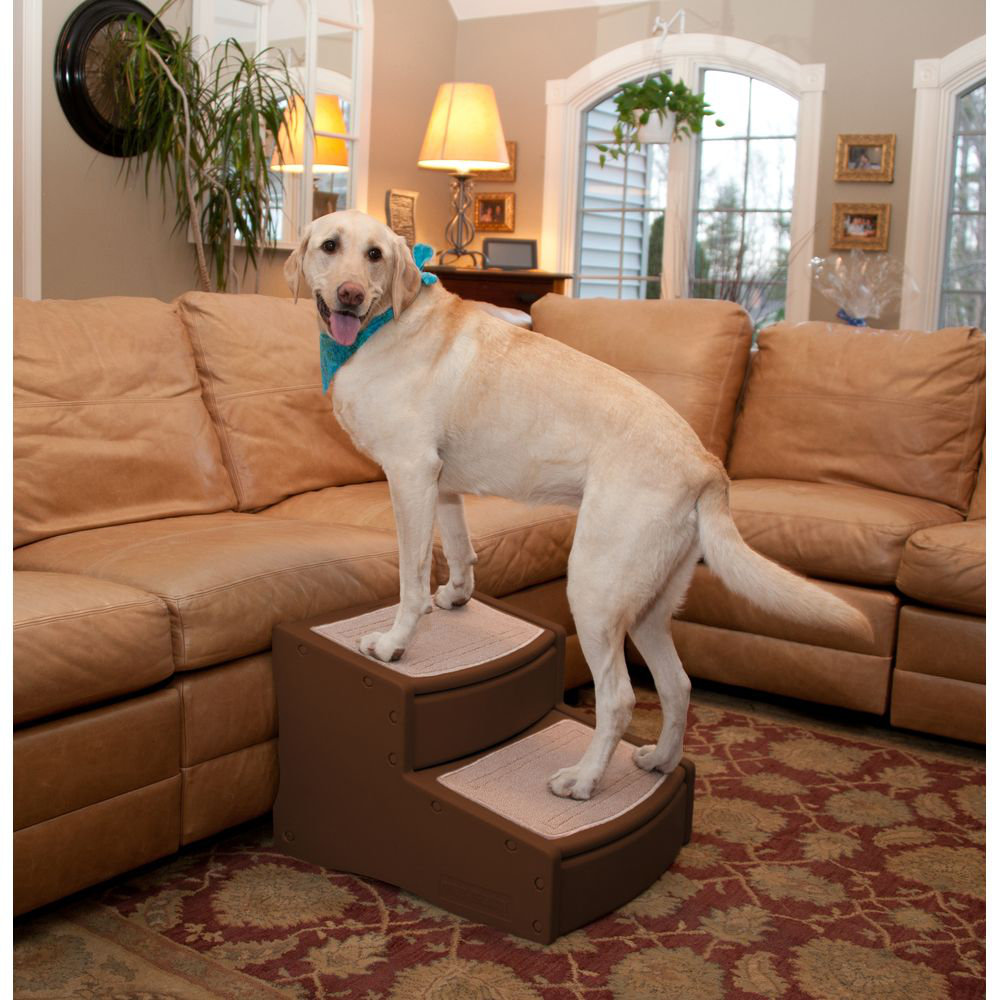 Easy Steps II Extra Wide 2 Step Pet Stair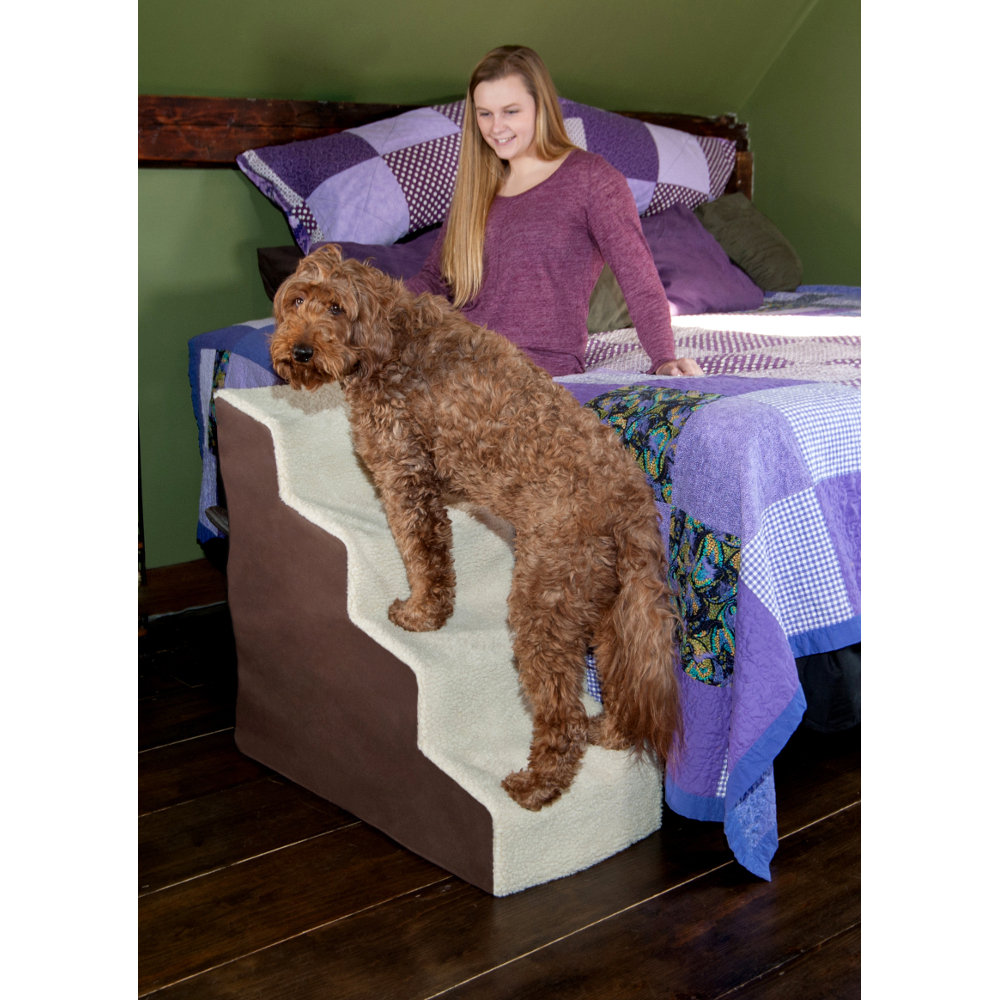 Easy Steps Deluxe Soft 4 Step Pet Stair

&
Convertible Pet Stairs/Ramp
Convertible Pet Ramp Steps Dog Cat Stairs Wood 2 in 1 Staircase Cat Folding New
Are these the cutest pet stairs you've ever seen? I wish these were around when my elderly black lab needed help to get up on the bed. I have another senior dog now and I'm going to get this ramp for her.
Give your best buddy dog or cat a helpful boost to get up to his favorite spot on the couch or bed with this convertible staircase ramp. These convertible pet stairs and ramp accommodates pets up to 36 pounds as a ramp and 17 pounds as stairs.
These pet steps easily adjust into a ramp or into stairs for getting comfy on the couch or bed. It measures 15″H x 15″W x 27″L and has a sturdy wood frame with metal brackets and fabric covered stairs.
And isn't that cool paw print design fabulous?
Solvit PupSTEP Plus Pet Stairs

Pet Gear Easy Step III Pet Stairs

Pet Gear Easy Step IV Pet Stairs

What To Look For When Buying Dog Stairs
Best Pet Supplies Foam Pet Stairs/Steps

When you set out to get some pet stairs for your dog, it seems like an easy enough job, right?
But soon you realize that there are a few things you need to think about.
It's not a complicated job, don't worry about that. But you do want to think about where you'll be using the dog stairs. And you want to consider the size and age of your dog, too.
Take a little bit of time before you settle on a set of dog steps, to think about your dog's needs as well as those of your family and your home.
Here are a few questions to ask yourself:
How much space will you have available for the steps?
Are they for the living room, family room or bedroom? This might affect your choice of style.
Will the dog stairs be used outdoors? This will affect what kind of material you want the steps to be made of. There are nice dog stairs for indoor and outdoor use too.
What material would be better for you? Finished wood or sturdy and easy to clean plastic?
How much does your dog weigh? Is he a large breed or a small dog? This might affect how many actual steps there should be and how far apart they are, not to mention how sturdy you need it to be.
Do you want something portable or will the dog stairs be treated as a piece of furniture and blended into your decor?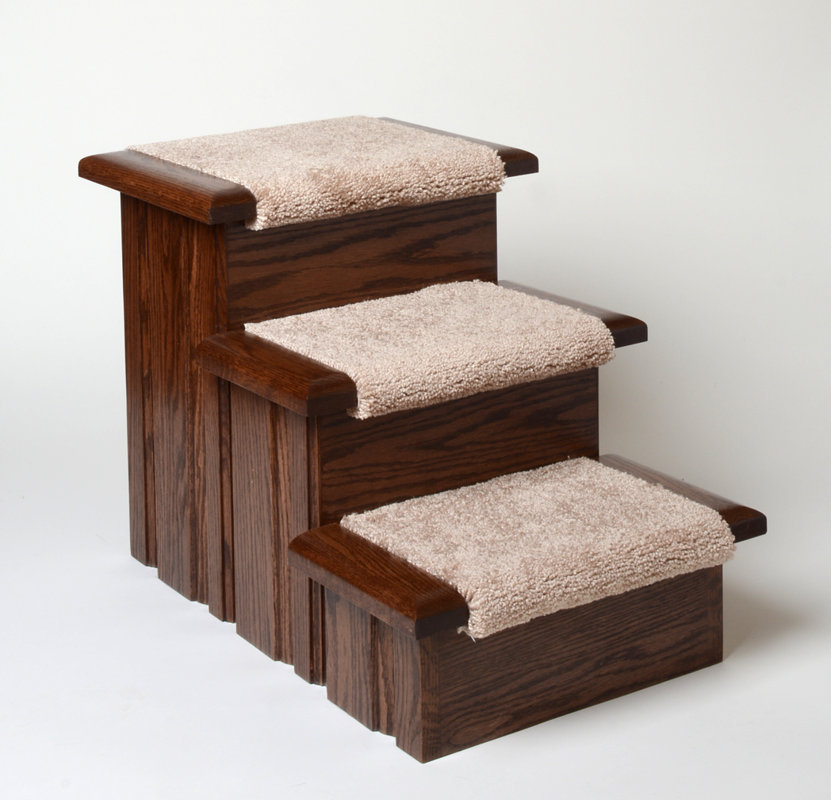 Hallie Raised Panel 3 Step Pet Stair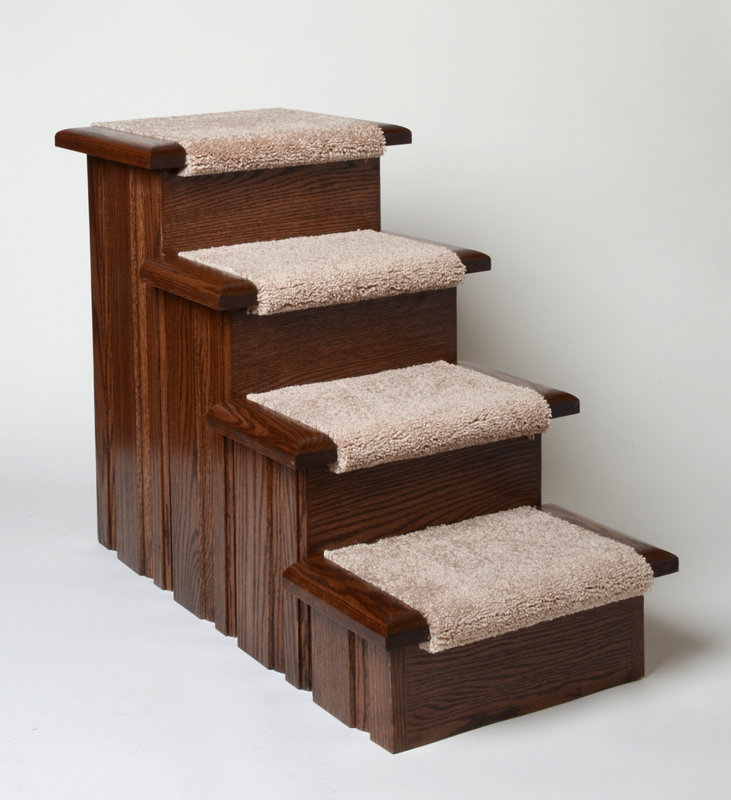 Halverson Raised Panel 4 Step Pet Stair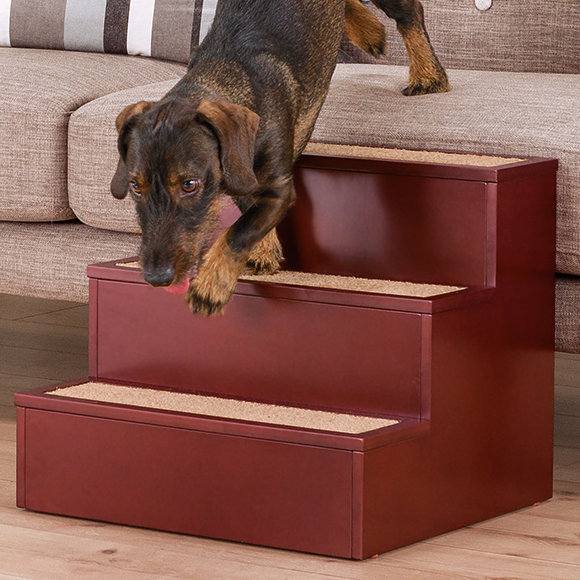 Madelyn 3 Step Pet Stair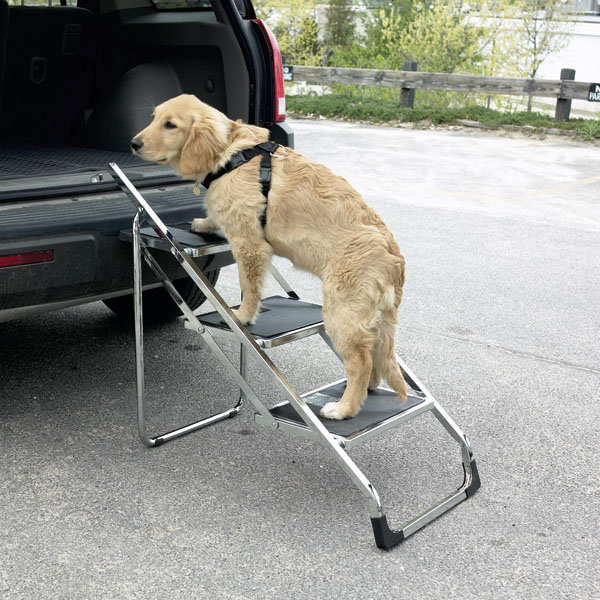 Non Skid 4 Step Pet Stair

Convenient Dog Stairs For Your Best Furry Friend
Make it easy for your beloved dog to reach his favorite places with some convenient dog stairs. They're available in so many different styles and designs, that you're sure to find a perfect fit for your needs, as well as your dog's needs. Choose from carpeted steps, finished wood stairs or a combination of the two. Dog stairs are an affordable way to provide a little extra comfort for your pooch.
Indoor/Outdoor Portable Pet Steps

Majestic Pet Stairs Steps

Pet Gear Easy Step II Pet Stairs, 2-step/for Cats and Dogs up to 75-pounds

Solvit PupSTEP Plus Pet Stairs, X-Large, Foldable, Best for Medium to Large Pets

Deals On Dog Stairs On eBay
eBay is a great place to find the best dog stairs at really good prices. They have lots of assorted types of dog stairs and ramps and I think you'll be pleased with the selection. Check out these dog stairs that I found for sale on eBay.
WP eBay Product Feeds
by
Winwar Media
(Visited 674 times, 1 visits today)