This post contains affiliate links, which means I may make a commission at no extra cost to if you click through and buy something.

My Version Of Kitchen Nightmares
You need a kitchen binder if, opening a cabinet in your  kitchen requires a hard hat.
If you have too many of this or you're constantly running out of that, you need a kitchen binder.
Can your junk drawers supply Inspector Gadget for a lifetime?  A kitchen binder may help you keep them decluttered.  The problem we had with all my kitchen junk drawers? It was dangerous to try to find anything in them. You couldn't reach in to one of the junk drawers without cutting a finger on all the…junk…in there.
And those 'science experiments' in the back of the fridge? Yuck!
If you've been dealing with all these problems, it's time to organize your kitchen.  You need a kitchen binder.
I Love My Kitchen Binder
Coupon Saver Binder Bundle, Blue with Free Bonus Sleeve
My kitchen binder is so helpful to me that I eventually split it into four separate notebook binders.  Now I have an actual kitchen notebook, a kitchen appliances notebook, a recipe binder and a takeout/delivery menu binder  LOL
Don't panic ~ I'm not saying you should have that many.  That's just to show you how much control you have. You decide what you want to organize with binders and how you want to set them up.
Taking my cue from my household management notebook, I researched kitchen binders and made notes for how I wanted to set mine up. One of my best tools resulted from all that work was My Kitchen Notebook! I love that thing!
I keep a household management notebook with a calendar, lists, address book and all the trimmings. I also use binders to organize different areas of our lives.  Yes, I probably have upwards of 15 home organization notebooks all over my house.  They are so handy, you can't have just one!  LOL
After my household notebook, my kitchen binder is my favorite. Let me tell you about it…
&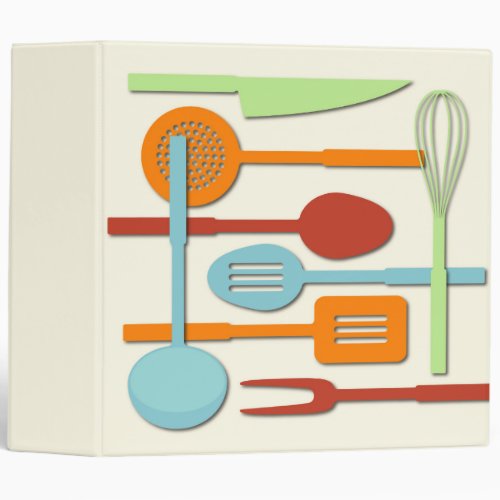 Kitchen Utensil Silhouettes ORBLC III 3 Ring Binder

Kitchen Utensils, Cookware, Cutlery – Blue Green Vinyl Binder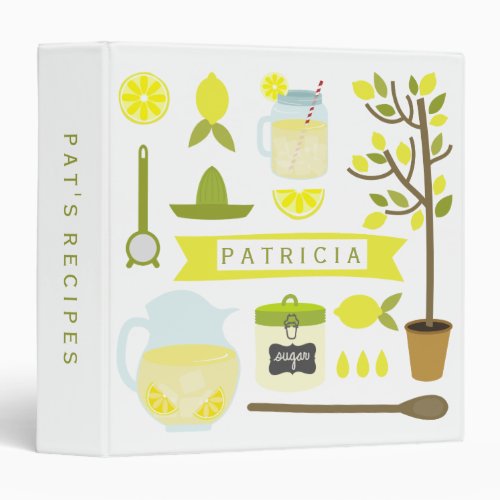 Vintage Inspired Lemonade Kitchen Binder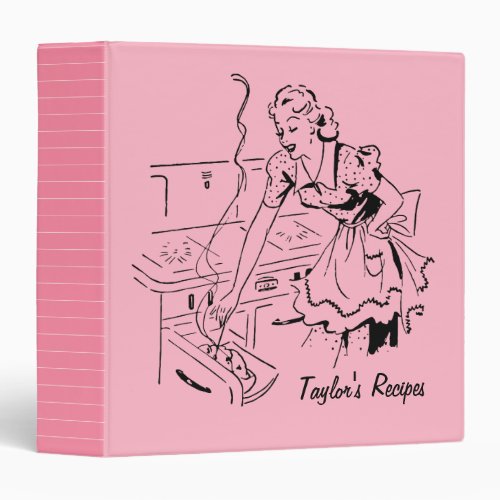 Personalized Retro Recipe Binder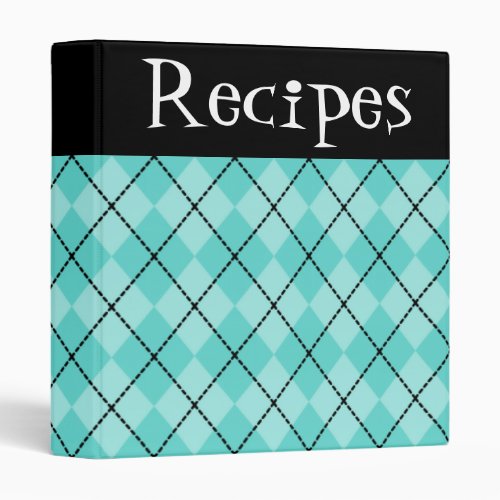 Fun Turquoise Recipe Binder

Classic Pink Brown Recipe Binder

&
What's A Kitchen Notebook…and why do I want one?
A kitchen binder is a custom made notebook just for you, your kitchen, your family, your lifestyle and your preferences. The best way to build one is with just a plain old 3 ring binder.
You want a kitchen binder if:
You're tired of being disorganized in the kitchen.
You don't know where your coupons are and most of them expire before you can use them.
You have favorite recipes, recipes to try out, and want to add more but the ones you have are everywhere, including the junk drawer.
You can never find your grocery list and/or a pen, especially at the same time.
You buy items again because you don't remember if you have some or not and you can't find your grocery list.
I bet you get the idea and can add a bunch more reasons by now?
Getting Organized: Making a Kitchen Binder
This is pretty much how I organized all those appliance manuals & directions. Easy, peasy ~ and so much neater. No more losing those little booklets!
What Do You Put In A Kitchen Notebook?
The great thing about making your own kitchen binder is that the contents of your Kitchen Binder are totally up to you. Here are some suggestions for what to keep in yours based on what I keep in mine:
Meal planner forms (you can use fancy pre-printed forms available on the internet or office supply stores, or just make a list of meals for the week)
Grocery lists (pre-printed or plain paper; I use an Excel spreadsheet that I just print out)
Once A Month cooking recipes & ideas (when I was working I liked to cook meals ahead to save time during the week)
Information and reference sheets like substitutions, measurements, storage time limits, etc.
Price comparison book (pages); I shop at Wal-Mart and my local grocery store. I compare the prices at these stores, which are the places I shop with coupons most often. Then I can plan ahead when to stop at which store to take advantage of sales and prices.
Favorite Homemade recipes; homemade bisquick, shake-n-bake, hot chocolate, cake mix, crackers, pancake syrup, etc.
Favorite Homemade household recipes; beauty, cleaning, gardening, laundry, pet, etc. Lots of natural homemade cleaners, bug treatments and such are made with stuff from the kitchen, so I keep my 'recipes' in my kitchen notebook.
Favorite recipes & family recipes, naturally.
Restaurant menus, take-out menus and delivery menus.
Recipe Organizer: How to Organize Recipes in a Binder
Here's a great example of organizing your recipes in a kitchen binder. I love Alejandra.tv videos! You're going to want to subscribe ~ she's great!
Supplies You'll Need To Set Up Your Kitchen Binder
Let's start by making a list of supplies that are handy for making your kitchen binder.
Binder (or other notebook) of the size desired.
Sheet Protectors; I recommend these to protect your pages from stains in the kitchen!
Legal pad, steno pad or other paper for jotting notes on, especially during the time you're setting it up. Or, just some good old plain lined 3 hole paper in the front of the binder.
Pen, pencil, markers, stickers; your preference
A pencil pouch; OR a clear zip close pouch that has the holes for the binder. I happened to have one of these already. You can find them at the office supply if you'd rather have one of these. They're usually pretty cheap.
A coupon pouch; I kept mine here so I could plan my meals & make my grocery lists.
Staples 3 Inch BetterView Binder

True Bright Color 3-Ring Pencil Pouch

Avery Clear Heavyweight Sheet Protectors

Avery Extrawide Ready Index Dividers

&
Tell Me About Your Kitchen Binder In The Comments
(Visited 127 times, 1 visits today)