Mexican Cinnamon Sugar Cookies or Polvorones de Canela are a traditional Christmas cookie in Mexico.
I grew up along the Texas-Mexico border and I don't remember them being specifically connected with Christmas. But that's okay! I'm a total cookie fiend. It's always the perfect time for cookies in my opinion! Am I right?
This is one of my favorite quick and easy recipes for yummy happiness. Melt-in-your-mouth Mexican Cinnamon Sugar Cookies fill your home with the spicy cinnamon fragrance reminiscent of the holidays.
Let me tell you, they'll bring family and friends running from far and wide for your kitchen for some fresh, hot cookies.
Also known as polvorones de canela, Mexican cinnamon sugar cookies make exellent gift cookies too.
Send some over to your neighbors, send some to your kids' teachers ~ everyone will love them! Take some to the office and to church!
Mexican Cinnamon Sugar Cookies
Ingredients
2 3/4

cups

all purpose flour

2

teaspoons

ground cinnamon

1/4

teaspoon

salt

1/2

cup

salted butter, softened

2

teaspoons

cream of tarter

1 1/2

cups

sugar

1/2

cup

shortening

2

eggs

1

teaspoon

baking soda

2

tablespoons

sugar
Instructions
Set the oven to preheat at 400 degrees F.

Mix the butter, eggs, shortening, and 1½ cups of the sugar with an electric mixer on medium speed until creamy or about 1 to 2 minutes.

Sift together the flour, cream of tartar, baking soda and salt. Add it into the shortening mixture.

Mix the 2 tablespoons of sugar with the cinnamon in a small bowl or on a small plate.

Roll about a tablespoon of dough (more or less) into 1½-inch balls, and roll them in the cinnamon-sugar. Set them about 2 inches apart on an ungreased cookie sheet.

Bake until the cookie edges set, but the centers are still soft. That should be about 8-10 minutes, depending on your oven. Cool on wire racks.
Quality Cookie Sheets For Your Mexican Cinnamon Sugar Cookies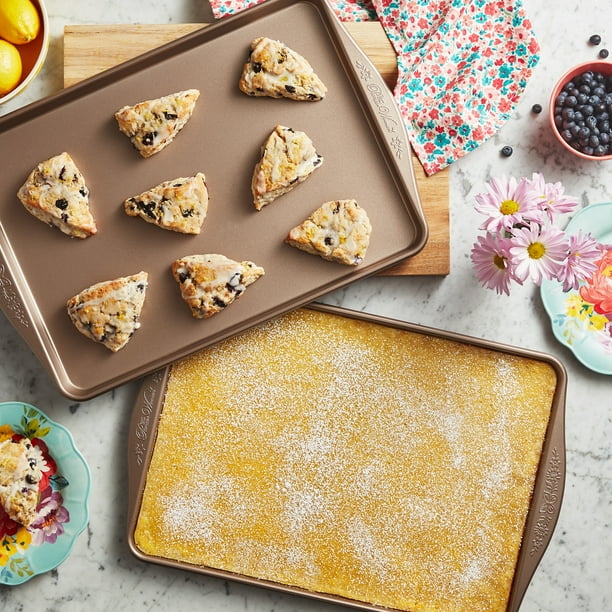 The Pioneer Woman 2-Piece Large Nonstick Metal Baking Sheets

Mexican Cinnamon Sugar Cookies Or Wedding Cookies?
Mexican Cinnamon Sugar Cookies are scrumptious shortbread-like cookies to me. The ones I know and love look like these.
They sort of look like and taste like Snickerdoodles too, don't they? They just aren't quite as sweet as Snickerdoodles.
I was surprised to learn that there's actually some confusion over two kinds of cookies that are referred to as polvorones.
The two kinds of cookies are both referred to as 'polvorones.'
Wedding cookies covered in confectioner's sugar are also referred to as polvorones sometimes.
The word 'polvo' means powder, so maybe that's where the confusion comes from? I couldn't tell you.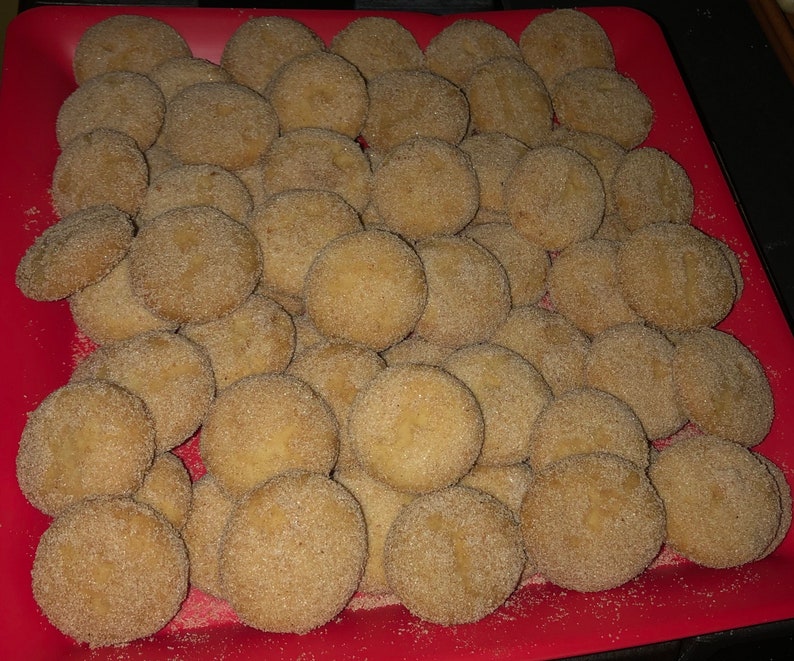 Hojarascas- Cinnamon Cookies- Polvorones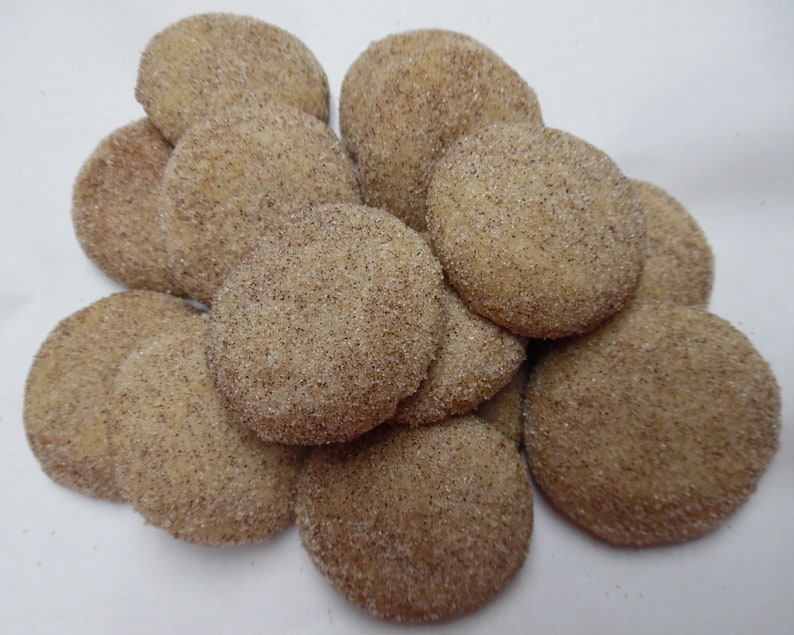 Pan de Polvo Mexican Shortbread Cookies

So Which Cookie Is Which?
In looking for a good way to explain the difference to you, I ran across a post at Pati's Mexican Table. She does a wonderful (and funny) job. I can't improve on her explanations. I wasn't born in Mexico City (I was born and raised in Laredo, Texas), but I agree with her!
What finally helped me tell the difference between the two is when she said:
In Mexico, you can find them as the original Spanish cookies (Spaniards are to blame you know, they are the ones who brought them to Mexico), which are flatter, bigger and wider.

Pati's Mexican Table
THAT explains why I remember them as 'flatter, bigger and wider' ~ looking like Snickerdoodles. I grew up on the border and our food was heavily influenced by the flavors of Central and Northeastern Mexico and yes–Spain, too. See? I knew there had to be a reason! I'm just relieved to know I'm not crazy!
Pati gives you the Mexican Wedding cookies recipe in her post. I share the Mexican Cinnamon Sugar Cookies (ala snickerdoodle style) recipe.
Be sure to try Pati's recipe – those melt in your mouth. I defy you to just eat a couple!
Better Bake Enough Mexican Cinnamon Sugar Cookies To Fill The Cookie Jar
Pacific Giftware Mexican Chihuahua Ceramic Cookie Jar
Double Cinnamon Sugar Cookies Recipe
See? Now THIS is what I'm talkin' about! Yum! You're going to want to try these too. They are hubby tested & hubby approved. I liked them too!
Cookie Gifts Are Always Welcome
White Cello Bags 5×8 inch for Treat Candy Cookie Party Favor Bags,White Stripe and White Dot,Pack of 200
Mexican Cinnamon Sugar Cookies are perfect for party favors for bridal showers, baby showers, birthday parties, school parties and Sunday School parties. Especially around the holidays!
Don't stop there though! Why not make up a few extra gift bags and give them out to your mailman, your neighbors, the cashier at the grocery store and your hairdresser?
Take a basket full of these treat bags full of Mexican Cinnamon Sugar Cookies to work to pass out to your co-workers, too.
Have fun making up all sorts of themed party favors with these cookies and some adorable cellophane gift bags.
Pick Up Some New Cookie Sheets on eBay
I don't know about you but my bakeware gets a real workout around here. Now and then I like to treat myself to a replacement. Like new cookie sheets!
WP eBay Product Feeds
by
Winwar Media
Are You Going To Try This Mexican Cinnamon Sugar Cookie Recipe?
(Visited 115,557 times, 4 visits today)