I can't tell you enough how important it is to gather and organize your personal medical information into a personal medical records binder. Heaven forbid, but when you have an emergency, it's hard to think of all the details of our health or that of our loved ones.
How do I organize my home and family's information? Why, in binders of course!
When I was helping care for my elderly mother, who was on dialysis, diabetic and hypertensive–and had severe heart problems, I began keeping track of her medical information in my planner. Having her medical information at my fingertips became critical as her health deteriorated.
I had her social security number, Medicare information, all her doctors' contact information, a list of her medications and all sorts of other handy information. I kept adding more medical information to it over time, too. So my personal medical records binder eventually became a very helpful tool as a caregiver.
Ahh Hah! Organizer Kit for Medical Records – Professionally Printed Tabs for USE in a Three Ring Binder
Why I Still Love My Personal Medical Records Binder
Medical Records Avery Binder

Fast forward to today, my husband has diabetes and some other difficult health issues which means more and more paperwork to track, medical information to remember and appointments to keep.
It was getting harder and harder to keep track of all his lab tests, blood sugar logs, medications lists, appointments and more. I had to sit down and make a personal medical records binder for him.
Actually, I made personal medical records organizers for both of us. These notebooks have been so handy, I even made a binder for my dogs. Imagine keeping vet records for seven dogs? No problem, I got this.
Each of our personal medical records organizers contain copies of current lab reports, current lists of medications, all of our doctors' and specialists' contact information, and more.
As a result, I get lots of compliments from medical staff at the hospital, the clinics and our respective doctors' offices about how organized our medical information is.
I'm just so relieved to have a simple way to keep track of it all!
Medical.doc
FranklinPlanner
I saw this medical record organizer on an episode of The Doctors on CBS (see clip below).
Organize all of your important treatment information, from diagnosis and treatment regimes, to insurance filings, and correspondence.
The record keeping is very detailed, according to one reviewer. It has 8 color coded sections for keeping the most important information handy.
It even has a business card holder so you can keep track of those doctors' information. Hey, it could also be handy for keeping track of all those doctors' appointment cards too. I'm going to try that. After I put the appointment in my calendar, I'm going to put the appointment card in one of the slots.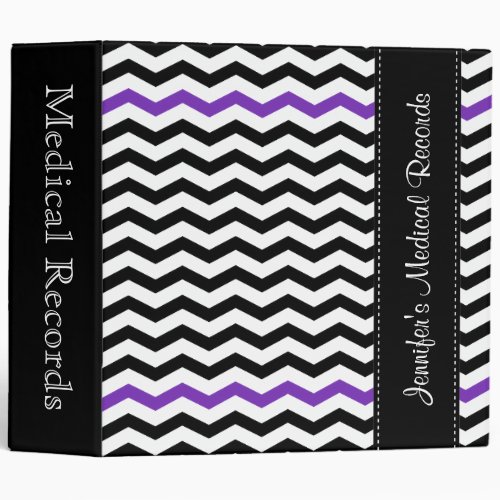 Chevron Purple Medical Records Binder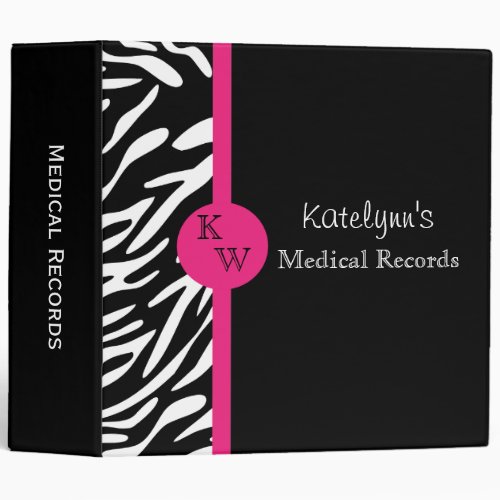 Zebra Print Monogram Medical Record Binder

Keep Your Family Medical Information Handy
My husband's personal medical records organizer has been a lifesaver. It's great to have all that important medical information at your fingertips at doctor's appointments, labs or the hospital.
A 3 ring binder was just the ticket for keeping it organized. Read on and you'll see how I organize mine, plus I've included tips from others who agree that a personal medical records organizer is an important tool for a caregiver.
You may want to keep one for yourself too, AND your kids and even for your pets!
UniKeep Medical Records Journal (White)
Smead All-in-One Healthcare & Wellness Organizer
Medical Record Organizer: Record Your Personal Medical History
My Kid's Health Passport (Boy Edition): The Ultimate Children's Medical Journal
Keep Your Medical Information Handy
Medical Records Health binder

A medical information notebook is a tool for you (and perhaps your family members) to keep track of illnesses, prescriptions, doctors, lab results, medical bills and monitoring logs.
To be sure, not everyone has medical issues that they have to keep track of, but it can still be helpful to keep track of immunizations, pap smears, mammograms, etc.
When seeing a new doctor or specialist, we normally have to fill out a whole new patient information sheet. Honestly, do you have your entire medical life memorized? I can't remember what order I've had which surgeries! LOL
If, God Forbid, you had to take a family member (or yourself) to the hospital at the spur of the moment, could you give all the needed information? When facing a crisis like this, it's easy to forget what medicines are taken, allergies, insurance company, etc.
Why not keep it handy in a binder that you can grab on your way out the door?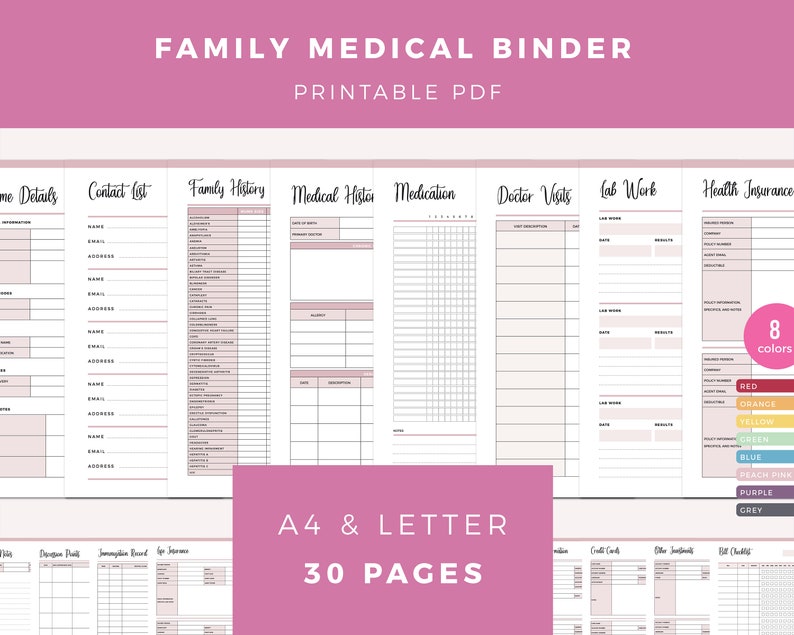 Printable Health Care Planner, Family Medical Binder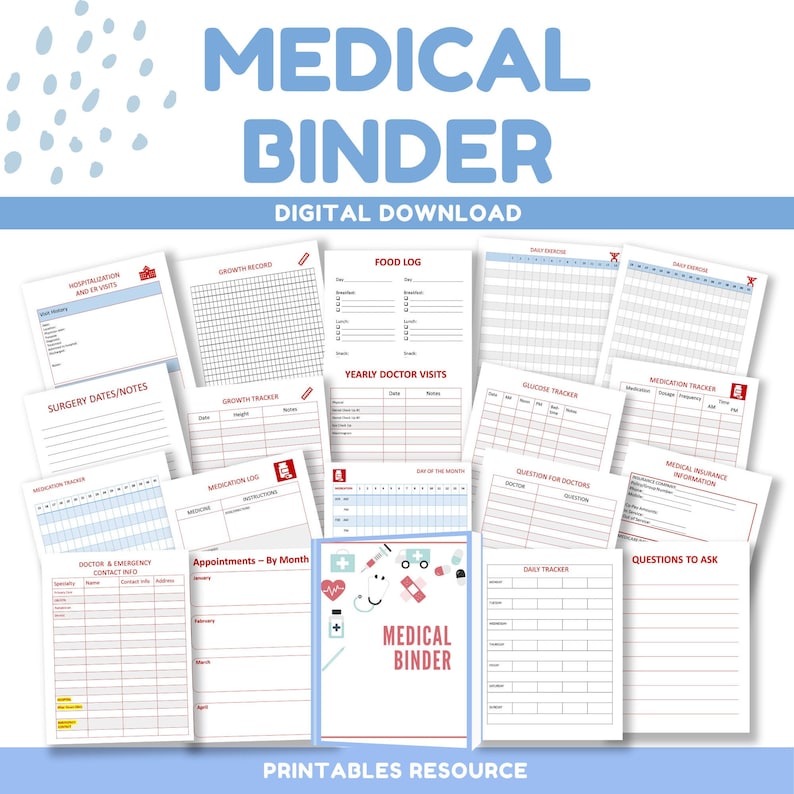 Medical , Kids, Family Medical Tracker, Special Needs Medical Binder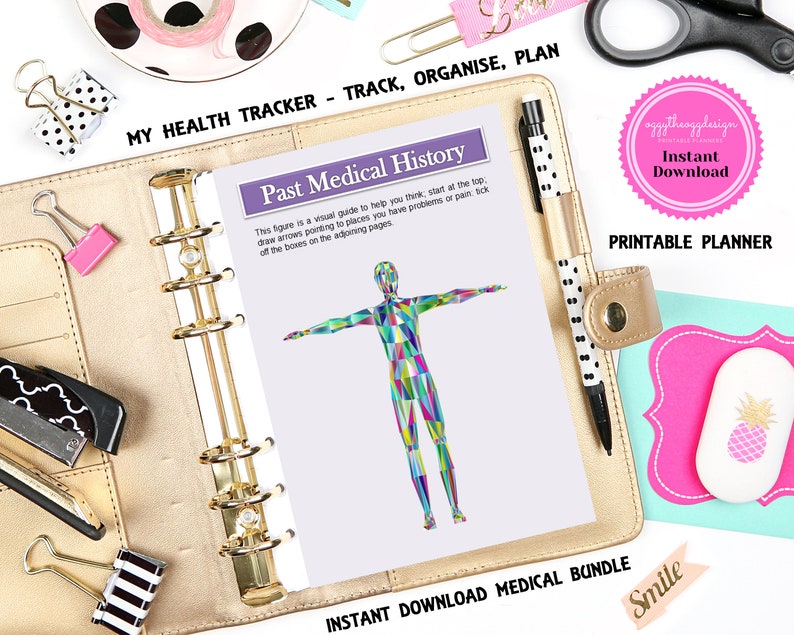 Printable Medical Planner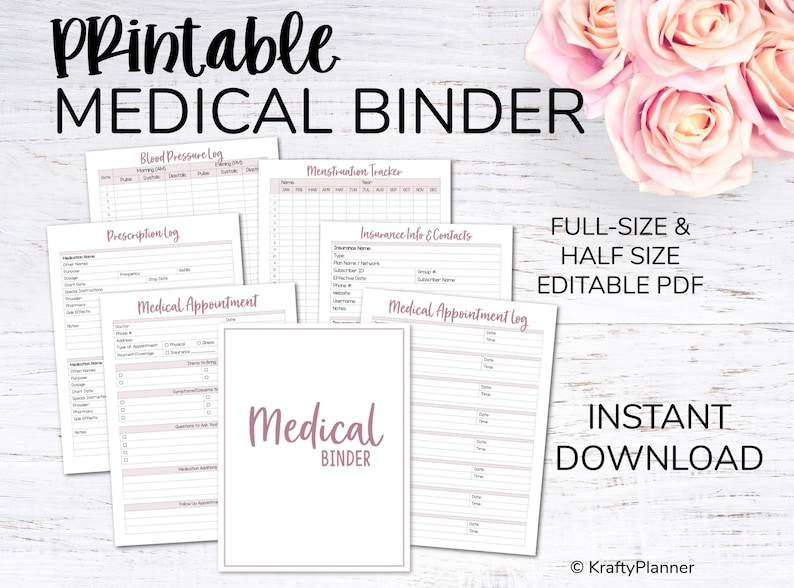 Family Medical Binder

What Do You Keep In A Personal Medical Records Organizer?
Personal Health Record Keeper and Logbook
I have three separate binders–one for hubby, one for me and one for our dogs. We take our binder to the doctor's office, radiologist, lab, clinics, specialists, etc.
I wish I had this notebook done when my husband had to go to the hospital in 2010. It would have saved me from racking my brain to answer questions!
Here's what I keep in my husband's medical information binder. I figured most of it out from taking care of Mom, then I've learned volumes since then.
The most important thing I learned was to come out and ask for copies of records we needed. This became very important when he suddenly had two specialists besides his primary care doctor. These specialists are each treating different ailments, so keeping up with what's going on is tough ~ but having my notebook helps a lot.
Section 1:
Copy of current insurance card, prescription card,
List of medications (dated with last update date),
Page with doctor information (name, specialty, address, phone & fax),
Copy of Summary of Insurance Coverage (I get a new one every year),
Drug and/or food allergies
Blood type
Section 2:
Worksheets – I've combined these into one spreadsheet he can use for the whole month for blood pressure readings, blood sugar readings, weight. I keep the filled out ones in the notebook to show the doctors.
Section 3:
Medical History (surgeries, illnesses, immunizations, accidents, injuries, etc.)
Section 4:
Family Medical History (cancer? diabetes? heart disease? You know the drill)
Section 5:
Notes (questions to ask the doctor at next appointment, description of symptoms, etc.)
Section 6:
Section 7:
Chronologically filed correspondence, bills, referrals, etc.
The great thing about using binders is that it's easy to move things around. Once you do the work to set up a new binder, keeping it up to date is much easier.
So why not help yourself, your loved ones AND your medical providers and organize your medical information?
Supplies For Your Own Medical Information Binder
A 3 ring binder; I like the kind with the clear vinyl pockets on the front and spine so I can label it and/or add artwork.
Dividers; You can use regular tabbed dividers or the pocket dividers,
A calendar, if you like. This calendar could be used for illness flares, etc., if you like visual reminders.
A pencil pouch, to keep some post-it notes, paper clips…and pens, handy.
Sheet protectors.
Avery 11201 Insertable Style Edge Tab Plastic Dividers, 8-Tab, Letter
Better Office Sheet Protectors, 50 pack
Wilson Jones 1 Inch 3 Ring Binder, Basic Round Ring View Binder, Black, 4 Pack
Advantus Zippered Binder Pencil Pouch with Rivet Enforced Holes, Black (67024)
Helpful Links For Organizing Your Medical Information
October is Organize Your Medical Information Month!

How Do You Organize Your Medical Information?


More Organizing Ideas With Notebook Binders
eBay Has Some Medical Information Organizers
It just never ceases to amaze me how you can find just about anything you're looking for at eBay. LOL Found a few medical information organizers you can check out.
WP eBay Product Feeds
by
Winwar Media
(Visited 31,357 times, 2 visits today)