This post contains affiliate links, which means I may make a commission at no extra cost to if you click through and buy something.
Romantic Valentine Dinner Party Ideas
Looking for some Valentine dinner party ideas for a romantic evening with your Valentine? Grab your cuppa, I have some fun dinner party ideas that will make your Valentines Day extra special.
It doesn't matter whether you're married or not; been married a year or 50 ~ romance is the spice of life! Why not plan a romantic dinner party just for two to treat your sweetheart?  Anyone can dress up and go to a restaurant for dinner and take in a movie after.  Let your loved one know how special you think they are by planning a lovely evening with these Valentine dinner party ideas.
Now before you go worrying that these Valentine dinner party ideas are going to be hard, complicated or expensive…Remember that it's the small thoughtful touches that go a long way to showing your love and esteem.  Let's take a look at some fun dinner party ideas that are perfect for Valentine's Day, or anytime.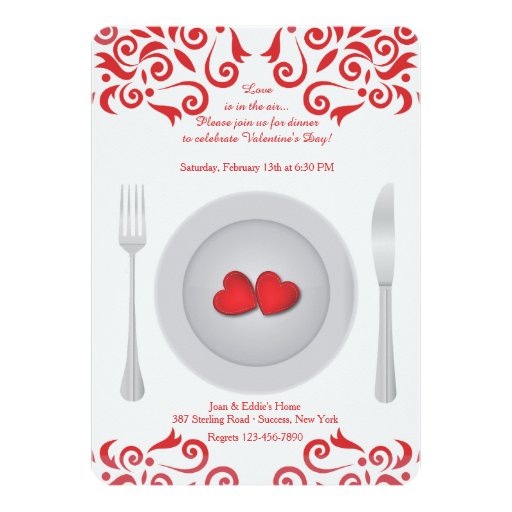 Hearts on a Plate Valentine's Day Invitation

Start your Valentine dinner planning with an invitation for your sweetheart, inviting them to your special dinner. Take this card for example. It's a dinner party invitation, yes. But you can also customize it!
Imagine receiving a dinner party invitation with your name on it. Customize it to say 'please join ME for dinner…" and you've got a winner!
Use the bottom area to let them know your dinner party will be at home OR add a sweet message just for him or her.
These Zazzle Valentine dinner party invitations are great ideas for a fun way to get your party started.
And if you are planning a Valentine dinner party for a circle of friends, this invitation is perfect!
&
Decorate For Your Valentines Day Dinner Party
Create a cheerful, loving mood for your romantic Valentines Day dinner party with some easy extra touches.
Set out a couple of scented candles or potpourri, or both!  Place a Valentine's Day wreath on the front door.
Add a Valentine's Day table runner here and there.  And don't forget some flowers!
Like I said, it's the little touches that have a big impact on setting the mood for your romantic dinner.
&
Candles create a beautiful romantic feel to any dinner table. Make your Valentines Day Dinner table look extra special with some unique handmade candles from Etsy.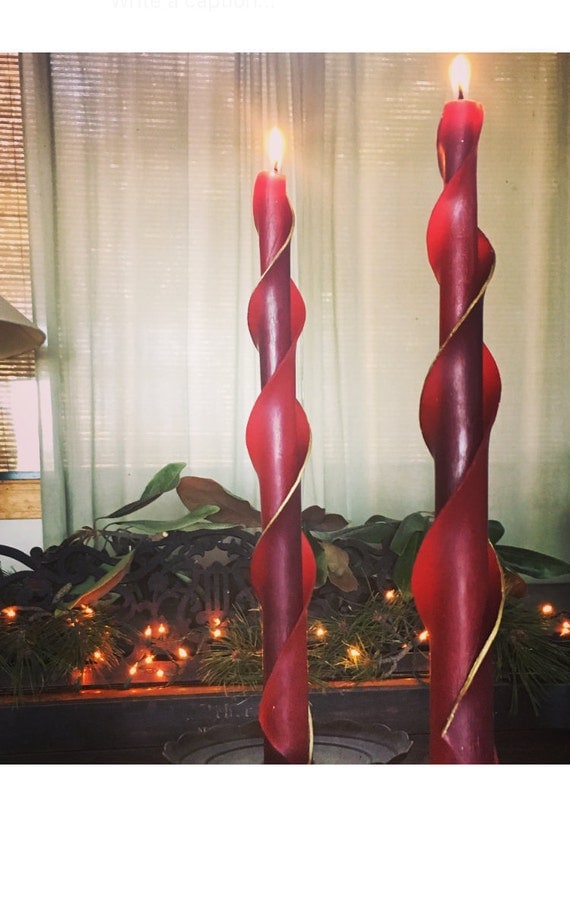 Red and Burgundy Valentine's Day Candle

&
Set The Valentines Day Dinner Party Table
Your Valentine will feel extra special when they see the dinner table set with your best dinnerware, some fresh flowers, and a lovely table cloth.  Add some pretty floating candles, tea lights or tapers or both.
Red Vanilla Panache Rouge 16 Piece Dinnerware Set

Quadro Red 16 PC DINNERWARE SET Service for 4

Better Homes and Gardens Tuscan Red 16-Piece Dinnerware Set

&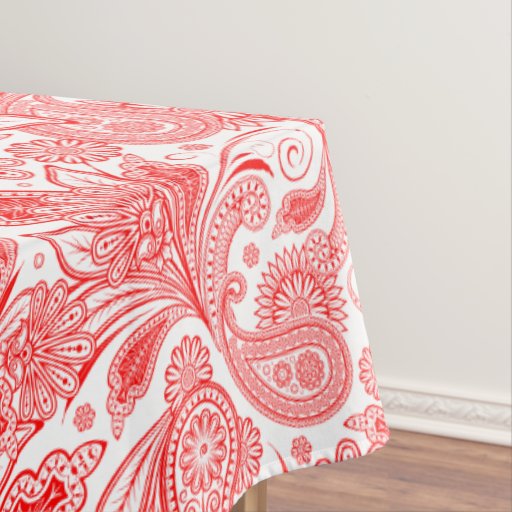 Ornate Valentines Red On White Ornate Paisley Tablecloth

Pretty pale pink cherry blossom and doodle hearts tablecloth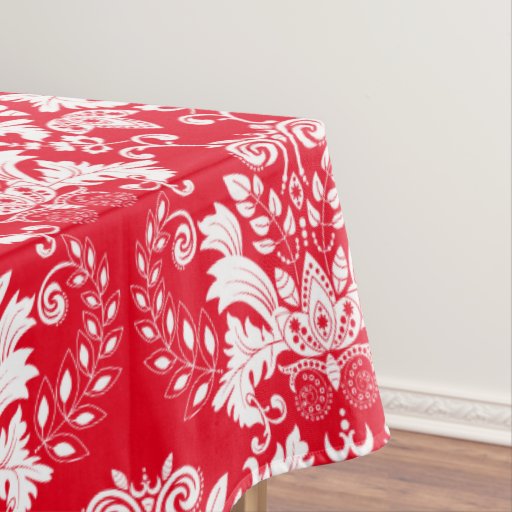 Ornate White Floral Damasks Red Background Tablecloth

&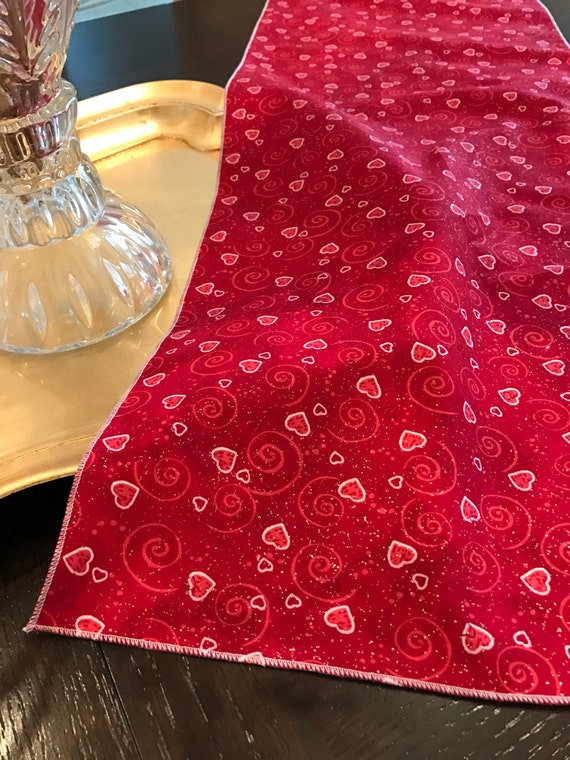 Valentine Tablecloth | Round | Table | Square Made To Order

12 White Bright Battery Operated Tea Lights + Romantic Unscented Fake Rose Petals Bulk
Romantic Happy Valentines Day Red Hearts Fabric Tablecloth
&
A pretty Valentines Day dinner table deserves a beautiful romantic centerpiece. There are so many stunning Valentines Day centerpieces to choose from on Etsy, too. Go rustic, frilly or simple ~ but don't miss the centerpiece!
&
Don't forget some special, romantic glasses for your wine! How sweet are these?  You don't drink?  Hey, neither do we.  We enjoy sparkling juices.  lol
Valentine's Day Glasses – Love You More Wine Glasses – Set of 2
Wine Glasses- with I Love You to the Moon and Back Set of 2
&
They say that music is the language of love. Be sure to have some beautiful, romantic love songs playing in the background of your dinner party for two. Get in the mood! Billboard has a list of the Top 50 Love Songs Of All Time if you need a little nudge in the idea department. I draw a blank when I try to think of our favorite love songs, so I enjoy checking out lists of favorite love songs.
World's Greatest Valentines Day Love Songs – The Only Love Album You'll Ever Need (Deluxe Version)
&
Best Valentines Day Dinner Recipes
Ah yes, the actual food to go with your Valentine Day dinner party ideas!
First, a few tips for your romantic dinner.
Prepare as much of the food as you can in advance. Like, for Thanksgiving I spend a couple days chopping and putting dishes together so I can put them in the oven or on the stove without leaving guests too long or being in the kitchen all day. Invest a couple hours here and there planning your meal and assembling as much as you can so you can spend that much more time with your sweetie!
On the flip-side of that, maybe the two of you can prepare your meal together. My husband and I both enjoy cooking, so we frequently prepare our meals together. It's wonderful for spending time together!
Don't over indulge, especially if you're having a rich dinner. You don't want to be uncomfortable the rest of the evening do you?
Do I have to say it? NO phones, TV or tablets! Nothing kills the feeling like phone texting dings or the TV news in the background. Pick out some favorite love songs and play them softly while you eat. Now there's a romantic dinner!
How about these meal ideas for your Valentines Day Dinner?
Appetizers:
Start the evening off with a delicious appetizer like Bacon Wrapped Stuffed Mushrooms.  Nothing says love like bacon in or on anything!  lol  That's my favorite recipe for an easy appetizer.  Hint ~ assemble them early and pop them into the oven shortly before your romantic dinner.  Melt his heart with the smell of bacon cooking.
Another favorite appetizer of mine is Guacamole.  It's easy to scale up for guests or to whip up a batch just for the two of you.  I know it always sounds so complicated to make guacamole, but you'll be surprised how easy it is to make when you get down the basic ingredients.
Curtis Stone's recipe for his fantastic Guacamole for Lindsey is from his cookbook and I just love it.  I do usually add the minced garlic that I buy in a jar, but you might not want to do that on Valentine's Day!  lol
Salads:
Enjoy a wonderful Tomato & Avocado Salad with your loved one.  This recipe is out of this world!  I've heard that tomatoes and avocados are aphrodisiacs.  I don't know that for sure, but I know that preparing a delicious meal for your sweetheart will ramp up the romance.
Main Courses:
What to serve your loved one for the main course?  You may know by now that my recipes are not for the health-conscious.  The key to this Texas girl's heart is a steak.  Does your sweetheart have a favorite cut of steak?  This is the time to fix it for him/her.
A tasty Filet Minon With Rich Balsamic Glaze is what I've picked out for my honey and me this year.  We do love a good steak.  It's easy to make and a perfect, romantic meal for two.
Around these parts, steak and potatoes go together like peanut butter and jelly.  This recipe for Oven Roasted Parmesan Potatoes is to die for.  Like other fans of this recipe, I always come back to this one.
Desserts:
Oh honey, desserts are the most important part of the meal!  Ok, I know.  Sorry I get carried away.  But you have to admit, Valentine's Day means lots and lots of chocolate! YUM!
My personal favorite is Chocolate Covered Strawberries.  Wonderful with champagne and so easy to make!  Keep them simple or add your own flourishes like drizzling white glaze over them.  Even sprinkles would look cute, if you want a bit of crunch.  Or, roll them in finely chopped nuts.
Golden State Fruit 12 Love Berries Valentine's Day Chocolate Covered Strawberries
&
2017 Pinterest Party Valentine's Day Blog Hop
This post is part of the Pinterest Party 2017 Valentine's Day Blog Hop. Pinterest Party is a group that helps people grow their Pinterest following. Find other Valentine's Day related posts in this blog hop below:
January 29, Steampunkary – Steampunk Alice in Wonderland Heart Printables for Valentine's Day Crafts Gifts
January 30, Stephanie Grams ~ Get Date Night Ready
January 31, The Mama Maven Blog – 5 Valentine's Day Gift Ideas for Your Tech-Loving Spouse
February 1,  Best Gifts For Happy Living – The Best Valentine's Day Gifts for Her
February 2, Fit For life – 3 Easy Steps to Self-Love
February 3, Grammie Knows How – Gifts that will Grow like your Love, for Valentine's Day
February 4, Olives & Okra – 4 DIY Valentine's Day Crafts (that's me!)
February 5, Kids Fun Reviewed – Love Bugs Valentine's Day Craft
February 6,  Essential Oils for Guide – Essential Oils for Couples
February 7, Valentines Free Knitting Pattern
February 8, Home Sweet Decor – Romantic Valentine Dinner Party Ideas for Two
February 10, Shopping Kim – Valentine's Day Frosted Sugar Cookies Recipe
February 11, Home Jobs by Mom – Chocolate Covered Toffee Recipe
February 12, Cozy Clicks Photography – Top 10 Photos that Show Family Love on Valentine's Day
February 13, Doodle and Stitch – Valentine Felt Envelope
(Visited 157 times, 1 visits today)