Seashell bathroom decorating ideas are nothing new when you live by the sea like I do.
Even so, we never tire of the beauty of the shells and we especially love bringing them into our home decor whenever we can. This very popular bathroom decorating theme is a joy to use if you're a fan of soft color and natural themes.
And where is the perfect place for seashell decorating ideas? Why, the bathroom of course!
Even here on the Gulf of Mexico, seashells from all over the world are imported, guaranteeing us the best of all worlds – seashell worlds, that is.
Seashell bathroom decor is a favorite with many people because the look just exudes tropical getaways on exotic islands or vacations on a breathtaking coast with white sands.
Do you enjoy the beach and collecting sea shells? Do you enjoy vacations at the shore? Decorating your bathroom with sea shells you collect yourself, then surrounding them with pretty decorating ideas like shower curtains, bathroom accessories, towels and bath mats will make for a beautiful spa you'll enjoy using.
Seashell Shower Curtain Rings
Shower curtain rings play a big role in adding design or color to your bathroom décor. These pretty seashell shower curtain rings can be used with any solid color shower curtain, or with a seashell print shower curtain. There are many lovely options to choose from here, so you're sure to find the perfect ones for your bathroom design.
Seashell Shower Curtain Hooks Bathroom Shell Decor (Set of 12)
Stainless Steel Hooks For Both Shower Curtain and Liner 12PK
12 PC Bathroom Seashell Shower Curtain Hooks
Anti Rust Shower Curtain Hooks Starfish Shell for Bathroom 12PK
Seashell Bathroom Shower Curtain Hooks, Set of 12
12 PCS Bathroom Seashell Shower Curtain Hooks Rings
12 PCS Seashell Shower Curtain Hooks Shell Decor
12 PCS Rust Proof Green seashell Shower Curtain hooks
12 PCS Rust Proof seashell and starfish Shower Curtain hooks
Seashell Shower Curtains
Add a touch of nature to your bathroom with these lovely seashell shower curtains. The nice thing about seashell décor is that you can mix and match designs, and still have them look cohesive and attractive. You have many terrific seashell shower curtains to choose from here, so have fun, and bring a touch of the seashore into your home.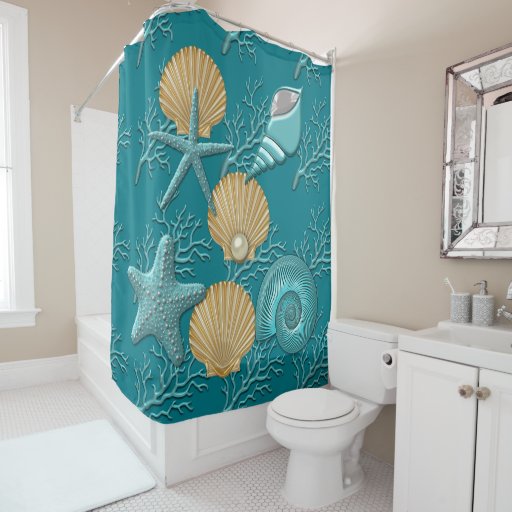 Aqua & Gold Seahells Coral Reef Shower Curtain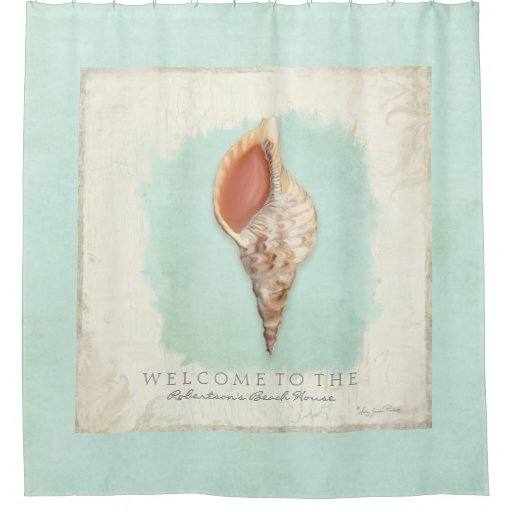 Tritons Trumpet Shell Personalized Shower Curtain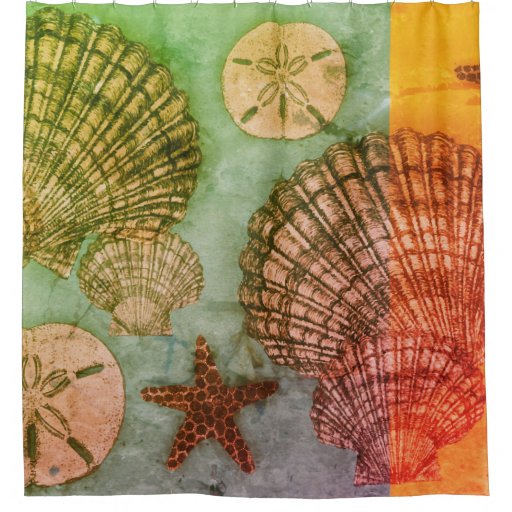 Seashells Shower Curtain

Rock That Seat With Sea Shells
The seashells lend themselves to whimsy, if you like a light, happy decor in the bathroom. But if you're passionate about the sea and the wonderful creatures that call it home, natural sea shells make that perfect realistic touch on your bathroom decor.
Toilet Tattoos TT-1600-O Found on the Beach Design, Elongated
Ginsey Standard Resin Toilet Seat Chrome Hinges Toilet Seat, Sea Isle
Shell Sculptured Molded Wood Toilet Seat
Acrylic Toilet Seat with Chrome Hinges, Round, Seahorse
Seashell Bath Mats
Your feetsies will love these comfy sea shell bath mats. These beautiful bath mats and sets will coordinate wonderfully with your seashell bathroom decor.
Coastal Printed Memory Foam Anti-Fatigue Bath Mat
Seashells Bath Mat, Little Seashell on Golden Sand
Mainstays Coastal Starfish Seashell Kitchen rug door mat
Sea Shell Bathroom Rug,Non-Slip 3 Piece Bathroom Mat Set
Seashells Bathroom Rug,Non-Slip 3 Piece Bathroom Mat Set
Seashells Bath Mat Non-Slip 3 Piece Toilet Mat Set Starfish Floor
Seashell Bathroom Accessories
Mmmm, I can hear the sea gulls calling. It's one of the prettiest themes available for decorating a bathroom. Seashell bathroom decorating ideas never go out of style because of the natural beauty of the shells, combined with the lovely, soothing colors.
Vintage Seashell Coat Hook Hanger
Decorative 4-Piece Ceramic Bathroom Set
Seashells Pattern Bath Set -Coastal Bath Decor

Seashells Bathroom Set

Coastal Style Bathroom Set Stripes Seashells Blue

Beautiful Selection Of Seashell Towels
The soft, natural colors of the shells are soothing and relaxing; perfect for your bubble bath getaways. You can create a wonderful spa atmosphere in your own bathroom with these seashell decorating ideas.
Beach Themed Towel Set, Sea Shell Pattern Starfish Bath Towels
6 Piece Towel Set, Sea Shell Pattern Starfish Bath Towels
Fun Happy Seashells Bathroom Towel Set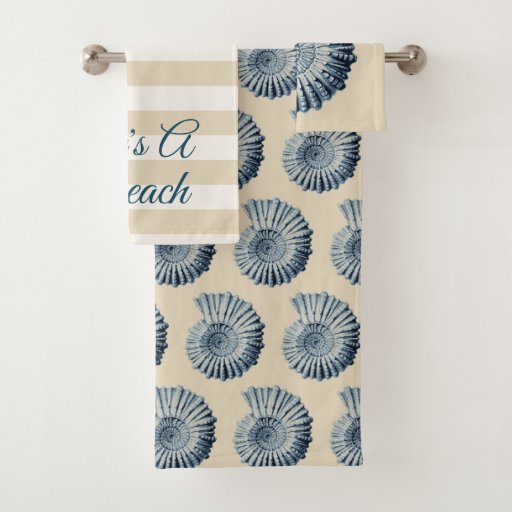 Spiral Blue Seashells Bath Towel Set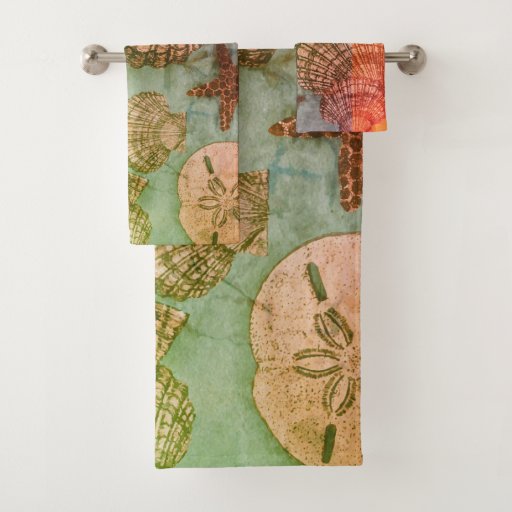 Seashells Bath Towel Set

Beach Seashells Sea Life Bathroom Set

Seashell Bathroom Decor Ideas On eBay
(Visited 1,933 times, 1 visits today)