One of my favorite activities, like many backyard gardeners, is attracting and feeding birds. Song birds and actually wild birds of all kinds are attracted to bird feeders that are clean, safe and well stocked. I could just watch my favorite birds around my bird feeders for hours.
We have a cardinal family, some woodpeckers, hummingbirds, finches and our familiar mockingbirds, doves, sparrows, grackles and even those pesky starlings. They're all a pretty rowdy bunch too! They're so beautiful and entertaining!
Featured Image: Duncraft Cardinal Fly Thru Eco Bird Feeder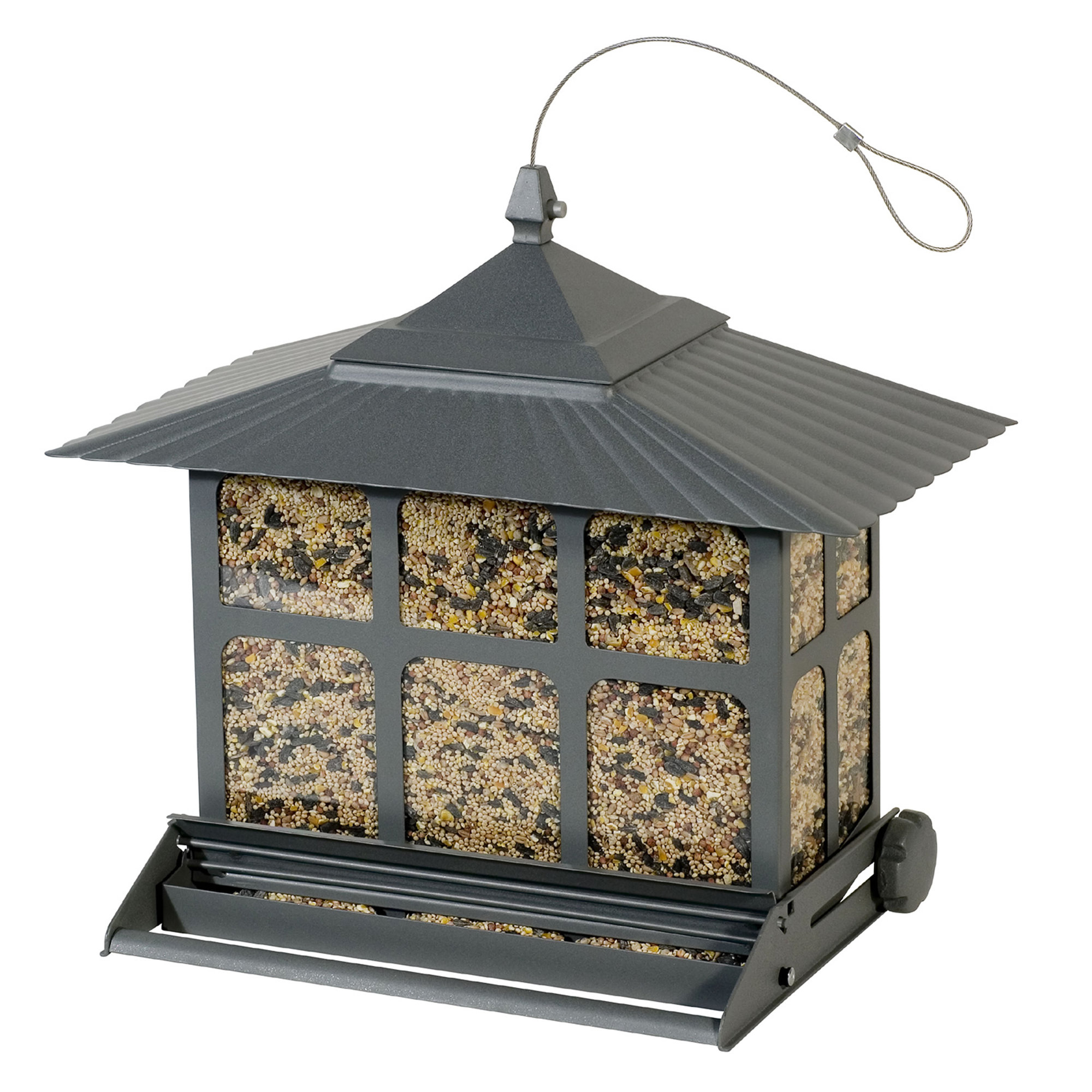 Birdscapes Squirrel-Be-Gone II Hopper Bird Feeder

If you enjoy attracting backyard birds and you're fortunate enough to live in an area where there's a variety of wild birds, having a few well stocked bird feeders around your garden is a convenient way for you to enjoy feeding and watching your feathered friends.
Large capacity bird feeders help you enjoy feeding those large groups of frequent visiting neighborhood birds like sparrows, cardinals, finches and doves and still have enough food for migrating birds that are just passing through.
Enjoy having birds fly around your backyard garden making it lively and colorful. Add one or more of these lovely bird feeders for them to keep them happy and coming back for more. I've browsed the internet and found the best bird feeders for you to choose from. So take a look today and find the best birdfeeders that are perfect for keeping your birds happy.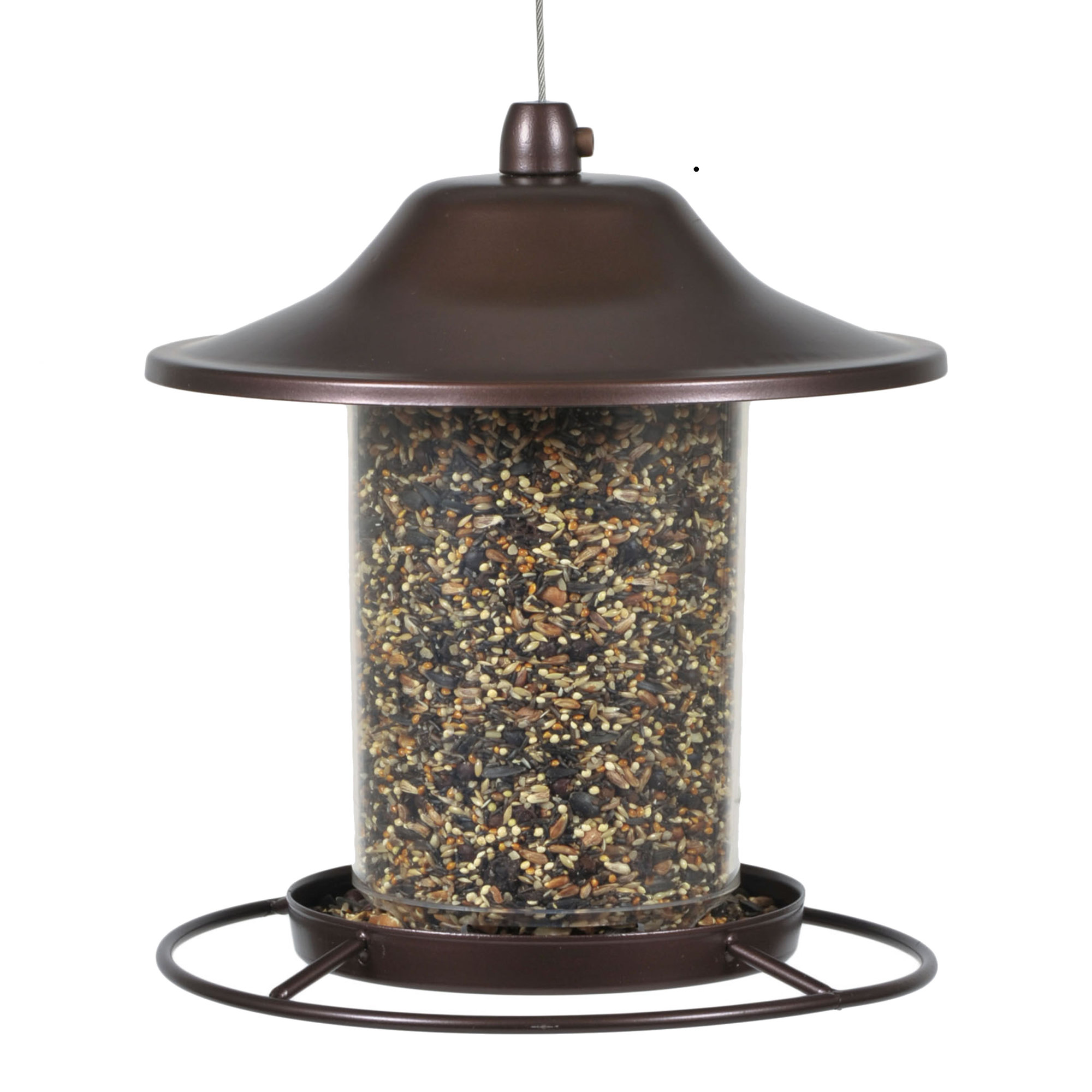 Perky Pet Panorama Hopper Bird Feeder

Gardman Complete Bird Feeding Station Kit

Stokes Giant Combo Tube Bird Feeder

Squirrel Proof Bird Feeders
Have lots of feathered buddies visiting your backyard feeders? I used to get so frustrated when I saw the larger more common birds like grackles, starlings, doves and even sparrows clean out my bird feeders lickety split, leaving nothing for the shyer song birds. The squirrels came running when I put out sunflower seed. I tried shooing the squirrels and the more obnoxious birds away and even stopped feeding any birds for a while. There was one thing that surprised me though.
When I hand watered my lawn and flower beds, I found the grackles and starlings would follow me around, snatching up all the creepy crawly bugs they could make off with. I also noticed that the doves and sparrows cleaned up everything that fell underneath the bird feeders. The squirrels watched mostly, but raided the bird feeders when they could sneak onto them.
Adjusting my bird feeding tactics a bit, I placed cracked corn and fruit (apple cores, over ripe apples or peaches, etc.) in the hollows of trees for the squirrels and they stopped bothering my bird feeders. I placed lots of bird baths around the yard for the little guys and the bigger birds to enjoy. And, I got a couple of the squirrel proof bird feeders.
Perky Pet Squirrel-Be-Gone II Country Style Bird Feeder

Perky Pet Squirrel-Be-Gone II Home Style Hopper Bird Feeder

In my experience with my front and back yards, tweaking my efforts with the bird feeders worked. Woodpeckers enjoy the fruit I set in the trees and so do the squirrels. The squirrels don't bother the bird feeders unless they haven't found any treats in 'their' trees. My dogs don't let the squirrels mess around with the bird feeders for long anyway! I'm afraid my dogs will knock over any pole bird feeders in my yard, so I don't use those BUT I know that some folks like them because it's harder for a squirrel to get to the bird seed.
Heritage Farms Squirrel Proof Vista Hopper Bird Feeder

Homestead/Gardner Stop a Squirrel Hopper Bird Feeder

Audubon/Woodlink Squirrel Proof Caged Bird Feeder

Now all of my back yard buddies are happier and I get to see everyone from my hummingbird pairs and cardinals, along with the occasional shy little finches. The mockingbirds are better behaved now and so are all the grackles, doves and starlings!
Decorative Bird Feeders
Birdscapes Mountain Chapel Bird Feeder

Something to consider when getting a decorative bird feeder is where and how big the perches are. Let's plan ahead and make it difficult for the larger birds like the doves and grackles to get close enough to gobble up all the bird seed.
I actually like the bird feeders hung from good strong tree branches because it affords the birds a good opportunity to fly up into better camouflage among the leaves and branches.
My dogs keep the squirrels from being too bold about climbing down the bird feeder for a quick snack. If you don't have canine cuties to help keep the back yard shenanigans at bay, there are baffles you can buy or make that will keep the squirrels out of the feeders.
Audubon Red Barn Combo Seed Bird Feeder

Toland Home Garden Blue Marakesh Hanging Art Bird Feeder

Woodlink Audubon Hopper Gazebo Wild Bird Feeder

Decorative Mesh Blue Hanger Bird Feeder

Tres Belle Songbird Decorative Bird Feeder

Ladybug Mesh Wild Bird Feeder

Naturalyards Pagoda Bird Feeder 3-Level, Cedar

No/No Red Seed Ball Wild Bird Feeder

The Butterfly Seed Decorative Metal Wild Bird Feeder

Decorative Leaf Mixed Seed Bird Feeder, Metal

Or you can do like I did and feed the squirrels on their own feeders. I know lots of people don't like squirrels, but I think they're hysterical. I set a bit of food out for them too and it seems to help them be less interested in my bird feeders.
Schrodt House Of MunchOrder Now At Master Gardening.com
Squirrel Feeder: BoxOrder Now At Master Gardening.com
Stovall 5 Cob Squirrel FeederOrder Now At Master Gardening.com
Stock Up On Wild Bird Seed
It's much more practical and affordable to buy bird seed in bulk for our large capacity bird feeders. I try to pick up a couple of the Morning Song Year Round wild bird food when I can, as it seems to be pretty popular in my back yard.
Do clean out your bird feeders periodically. I like to spray mine out with a vinegar and water mix then rinse and let them dry out. Keeps any yucky stuff from getting a foothold in here and making my birdies sick.
Wagner's Classic Wild Bird Food, 20-Pound Bag

Wagner's 4 Season Wild Bird Food, 22-Pound Bag

Kaytee Wild Bird Food, 20-Pound Bag

Pennington Ultra Waste Free Bird Seed, 7-Pound

Kaytee Black Oil Sunflower Wild Bird Food, 10-Pound

Pennington Ultra Songbird Blend Bird Seed, 7-Pound

Decorative Bird Feeder Bargains On eBay
Find beautiful backyard bird feeders on eBay. This auction feed is updated automatically, so check back often for the newest and latest auctions, so you're sure to find the best bird feeders for your back yard birds and squirrels. It's quick and easy to bid on your favorite items on eBay!
eBay Feeds for WordPress
by
Winwar Media
(Visited 222 times, 1 visits today)