One of my favorite activities, like many backyard gardeners, is attracting and feeding birds. Song birds and actually wild birds of all kinds are attracted to bird feeders that are clean, safe and well stocked. I could just watch my favorite birds around my bird feeders for hours.
We have a cardinal family, some woodpeckers, hummingbirds, finches and our familiar mockingbirds, doves, sparrows, grackles and even those pesky starlings. They're all a pretty rowdy bunch too! They're so beautiful and entertaining!
If you enjoy attracting backyard birds and you're fortunate enough to live in an area where there's a variety of wild birds, having a few well stocked bird feeders around your garden is a convenient way for you to enjoy feeding and watching your feathered friends.

Enjoy having birds fly around your backyard garden making it lively and colorful. Add one or more of these lovely bird feeders for them to keep them happy and coming back for more. I've browsed the internet and found the best bird feeders for you to choose from. So take a look today and find the best birdfeeders that are perfect for
Cute Cage Feeders For Small Birds
Small birds get muscled away from bird feeders by larger birds all the time. Doves, pigeons, grackles and even starlings can be aggressive bullies at birdie dinner time. Cage bird feeders sound like an odd name, but they're designed to keep the larger birds away from the bird feeders for small birds.
Depending on the size of the "cage," these feeders can frustrate a squirrel or two, the little thieves. And many of the caged bird feeders for small birds you can get are tube style feeders.
Think about what birds to want to attract and which birds you want to keep away when shopping for a caged feeder. The openings can be small enough to keep out all but the smallest birds or large enough to allow some medium size birds too.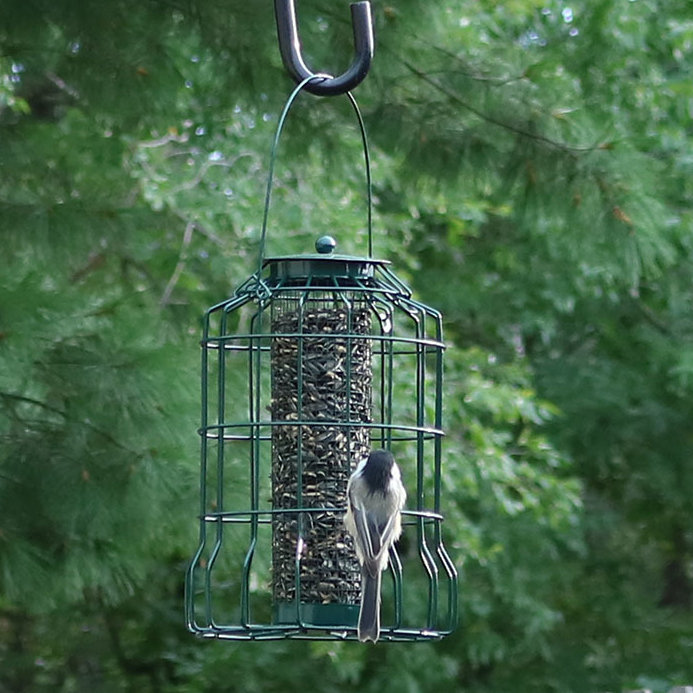 Augustin Wire Tube Bird Feeder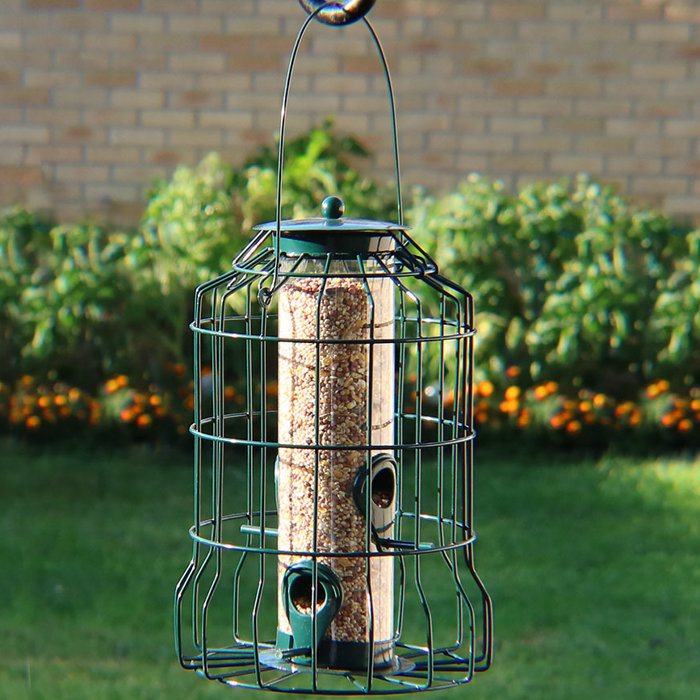 4-Peg Squirrel-Proof Wild Tube Bird Feeder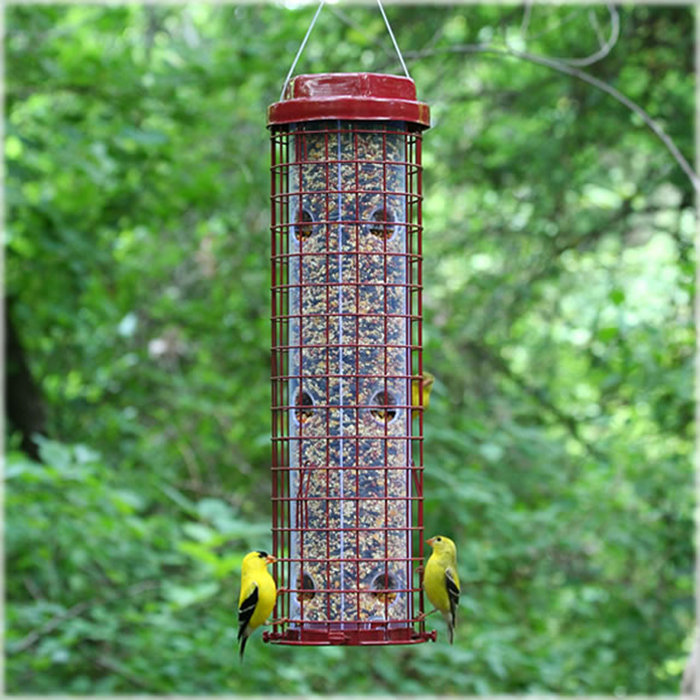 Easy Caged Tube Bird Feeder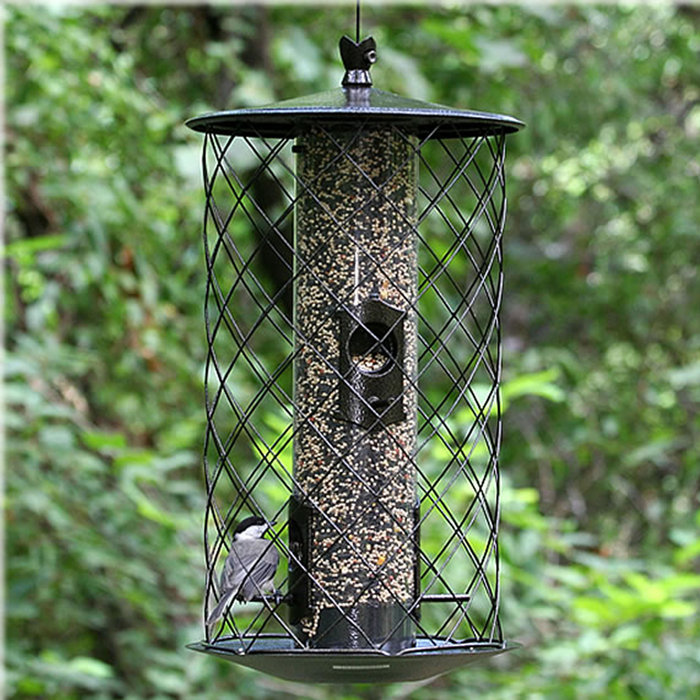 The Preserve Caged Tube Bird Feeder

Terrific Tube Feeders For Small Birds
Tube feeders offer a little more room at the birdie dinner table, depending how many perches they have. Some tube feeders for small birds have cages around them & some don't. They're a good way to have several birds feeding at a time.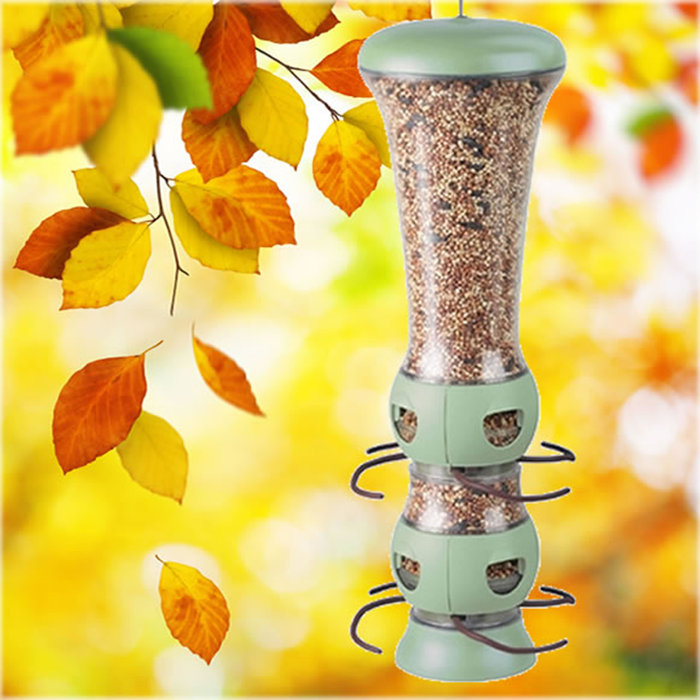 Select-A-Bird Tube Bird Feeder


Squirrel-Be-Gone Wild Bird Metal Tube Bird Feeder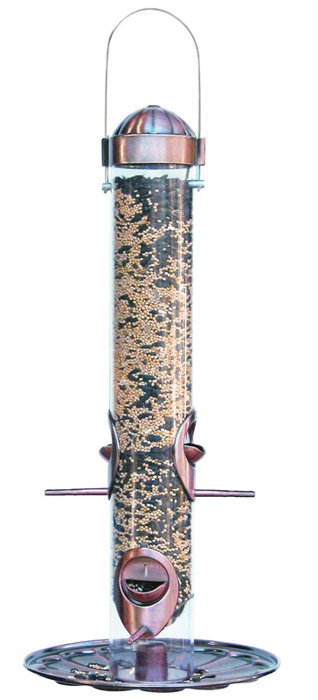 2 in 1 Wild Bird Plastic Tube Bird Feeder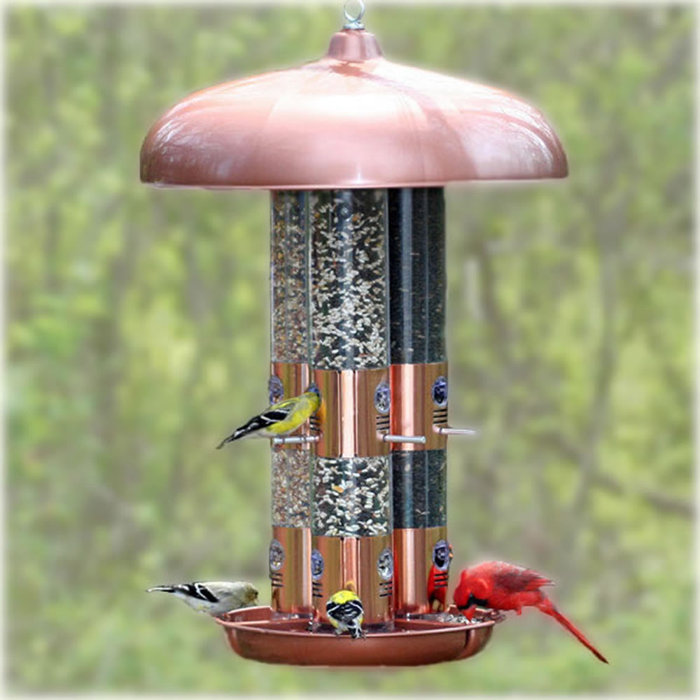 Perky-Pet Bird Feeder

Large Capacity Bird Feeders
Large capacity bird feeders help you enjoy feeding those large groups of frequent visiting neighborhood birds like sparrows, cardinals, finches and doves and still have enough food for migrating birds that are just passing through.
Shoreline Large Lighthouse Birdfeeder: Squirrel Proof Hanging Cable included, or Pole Mount (pole sold separately). Extra Large, 8 lb. Seed Capacity
More Birds 105IN, 3.6 lb Seed Capacity, Copper Finish Stokes Select, Metal Hopper Feeder, 4 Feeding Ports
Marvelous Mesh Bird Feeders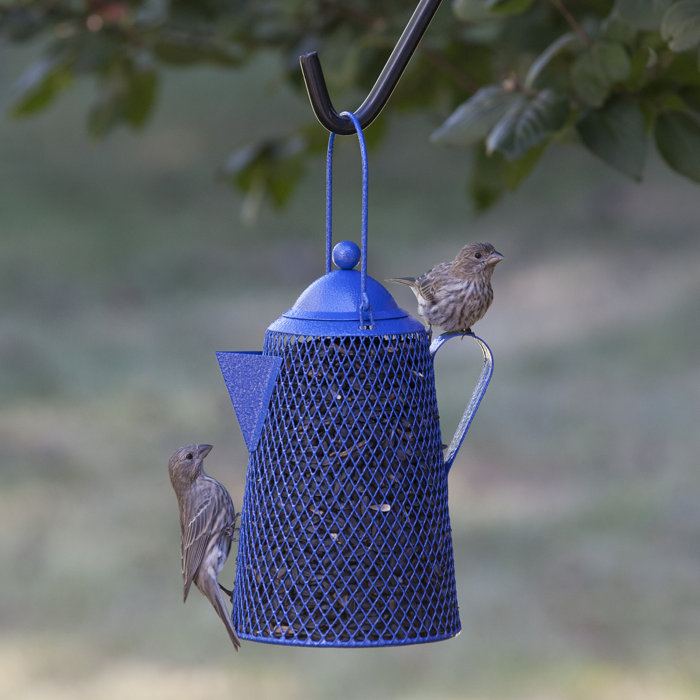 Coffee Pot Mesh Decorative Bird Feeder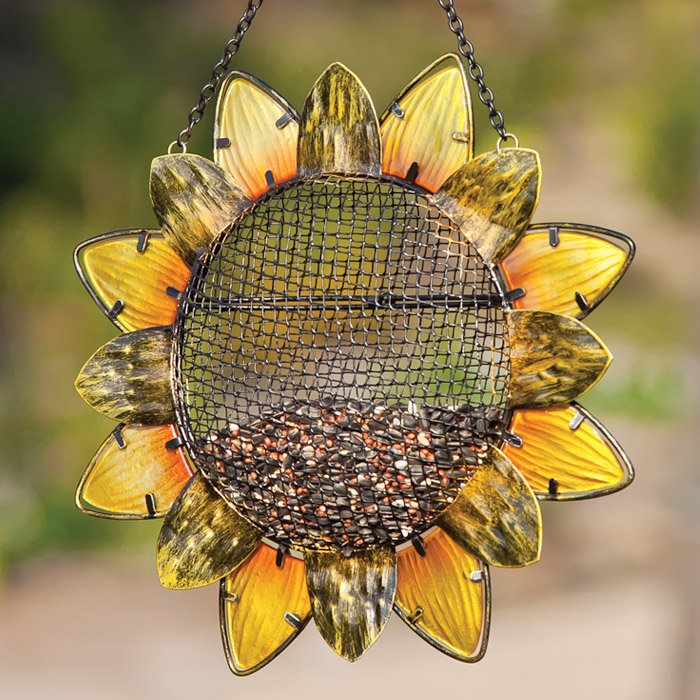 Sunflower Decorative Bird Feeder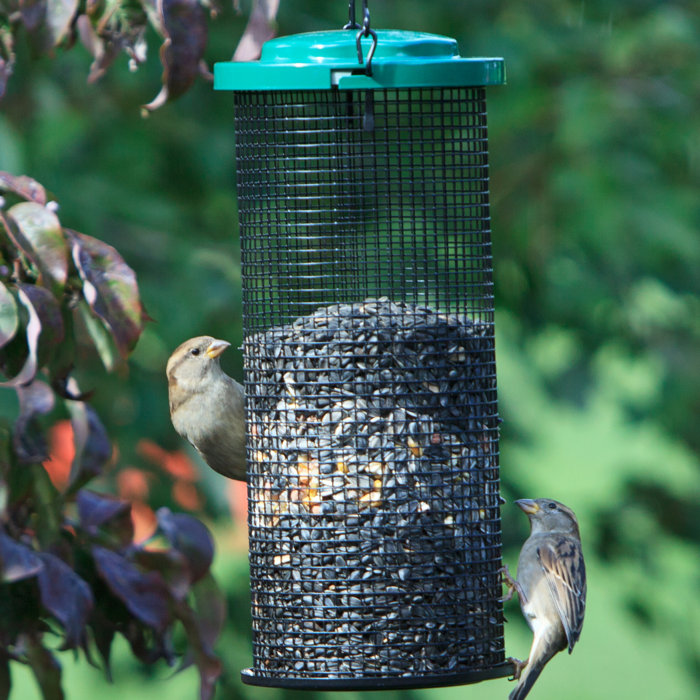 Sunflower Mesh Tube Bird Feeder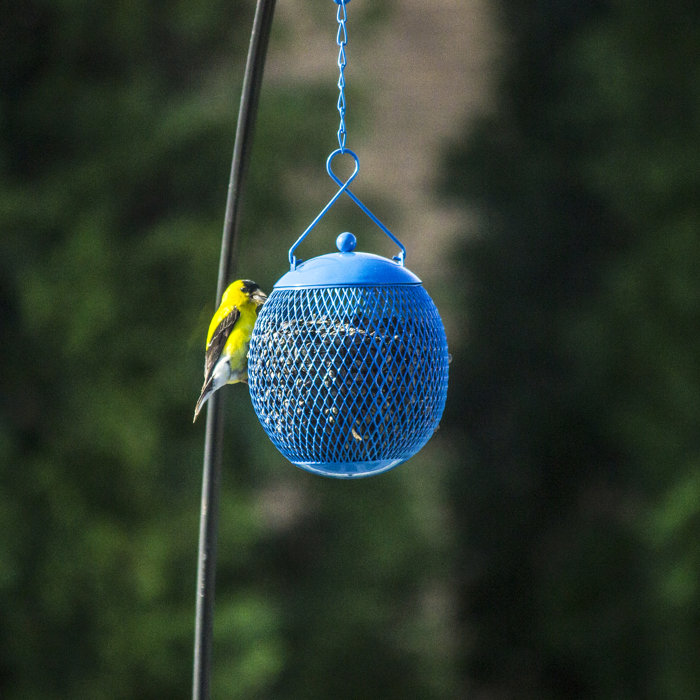 Colorful Ball Decorative Bird Feeder

Handsome Hopper Feeders For Small Birds
Archway Bird Feeder, Yellow Metal Perches with 2.75 Pounds Seed Capacity
Stokes Select Metal Hopper Bird Feeder, 4 Feeding Ports, 3.3 lb Bird Seed Capacity
Audubon 74240 Chalet Metal Hopper Bird Feeder
Audubon "Mini" Absolute Squirrel Resistant Bird Feeder Model 7458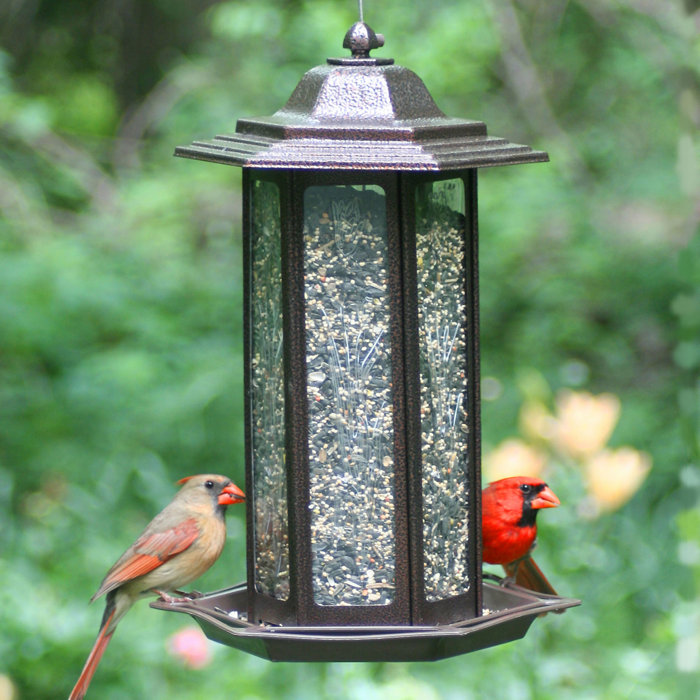 Tall Tulip Garden Lantern Hopper Bird Feeder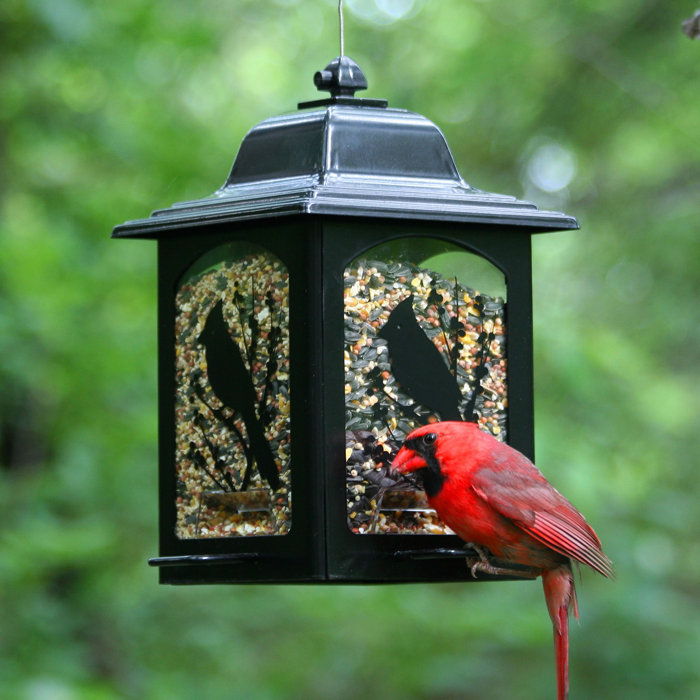 Birds & Berries Lantern Hopper Bird Feeder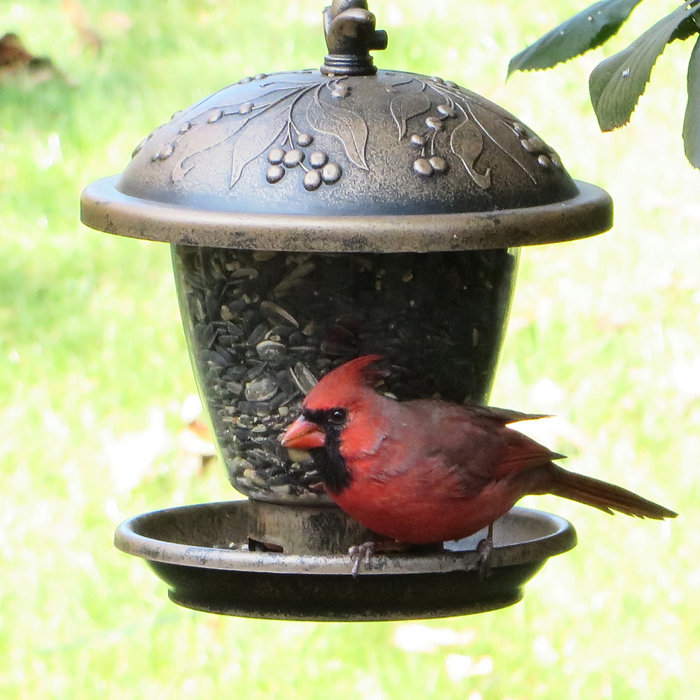 Gilded Chalet Hopper Bird Feeder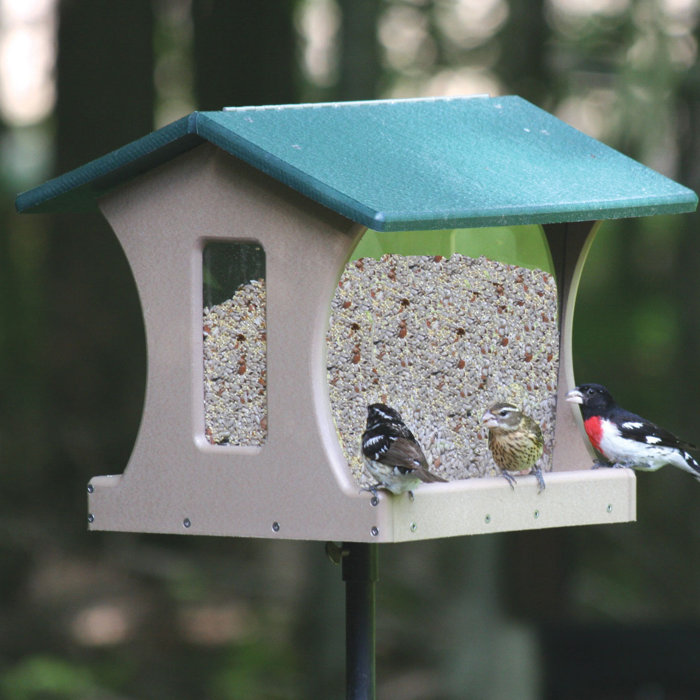 4 Gallon Recycled Hopper Bird Feeder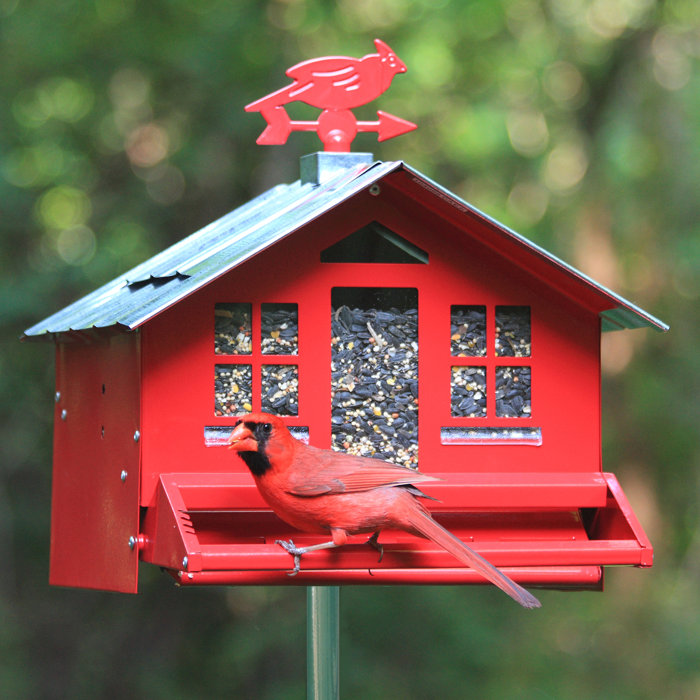 Squirrel-Be-Gone Hopper Bird Feeder

Octagonal Hopper Bird Feeder

Decorative Bird Feeders
Something to consider when getting a decorative bird feeder is where and how big the perches are. Let's plan ahead and make it difficult for the larger birds like the doves and grackles to get close enough to gobble up all the bird seed.
I actually like the bird feeders hung from good strong tree branches because it affords the birds a good opportunity to fly up into better camouflage among the leaves and branches.
My dogs keep the squirrels from being too bold about climbing down the bird feeder for a quick snack. If you don't have canine cuties to help keep the back yard shenanigans at bay, there are baffles you can buy or make that will keep the squirrels out of the feeders.
Audubon Red Barn Combo Seed Bird Feeder Model 6290
Decorative Bird Feeder
Wild Bird Feeder, 3-Pound Butterfly Seed Capacity
Squirrel Resistant Bird Feeders
Have lots of feathered buddies visiting your backyard feeders? I get so frustrated when I see the larger more common birds like grackles, starlings, doves and even sparrows clean out my bird feeders lickety split. They don't leave anything for the shyer song birds! The squirrels come running when I put out sunflower seed. I shoo the squirrels away and the more obnoxious birds away and even stopped feeding any birds for a while. One thing surprised me though.
When I hand water my lawn and flower beds, the grackles and starlings follow me around, snatching up all the creepy crawly bugs they can make off with. The doves and sparrows clean up everything that falls underneath the bird feeders. The squirrels watch forlornly, but still raid the bird feeders when they can sneak onto them.
Tweaking my bird feeding tactics a bit, I now put cracked corn and fruit (apple cores, slightly over ripe apples or peaches, etc.) in the hollows of trees for the squirrels. They don't bother my bird feeders anymore. I put a few bird baths around the yard for the little guys and the bigger birds to enjoy. And, I got a couple of the squirrel proof bird feeders.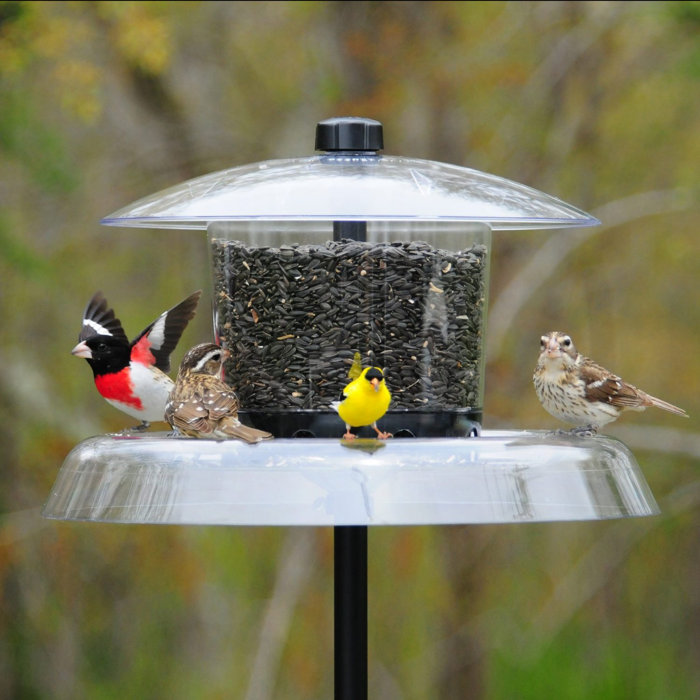 Jagunda Squirrel-Proof Tube Bird Feeder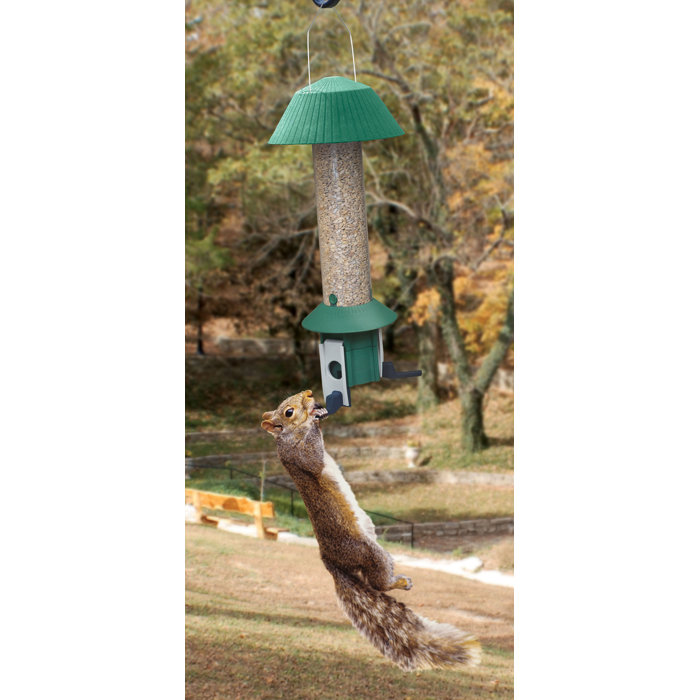 Squirrel Defeater Nut Tube Bird Feeder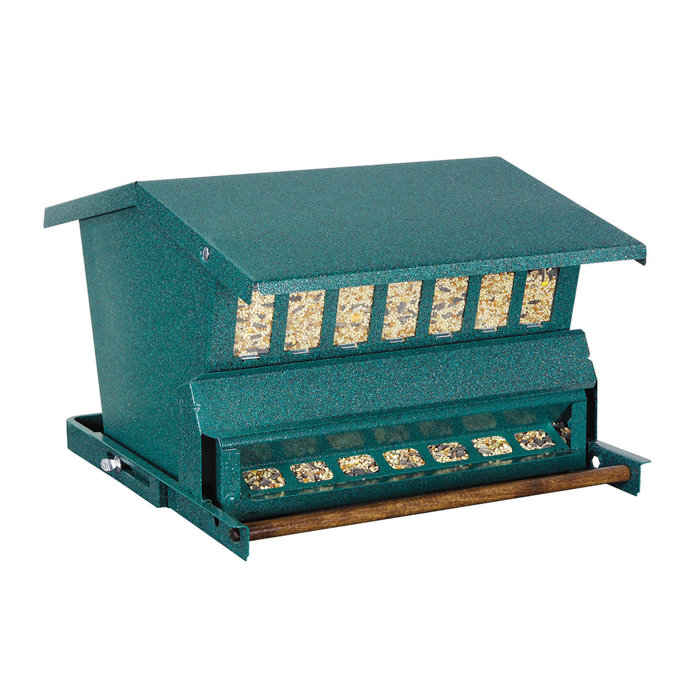 Absolute Squirrel Proof Hopper Bird Feeder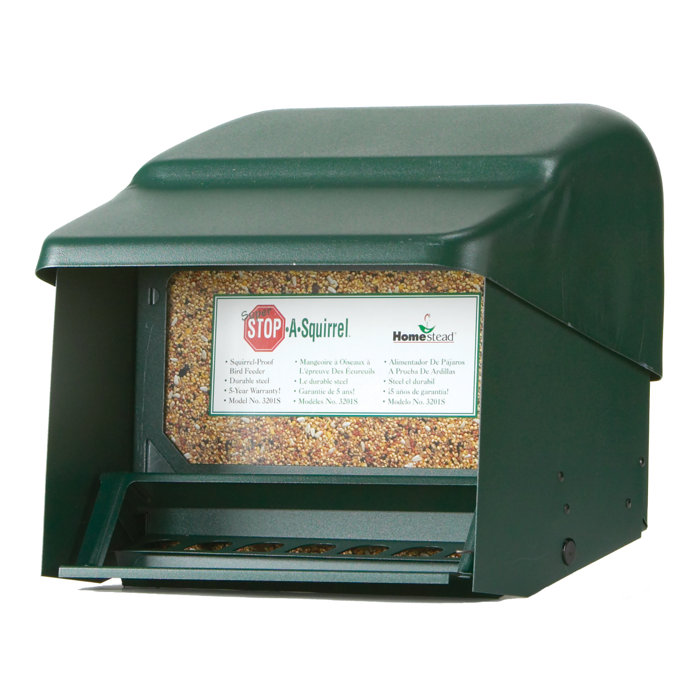 Super Stop a Squirrel Hopper Bird Feeder

In my experience with my front and back yards, tweaking my efforts with the bird feeders worked. Woodpeckers enjoy the fruit I set in the trees and so do the squirrels. The squirrels don't bother the bird feeders unless they haven't found any treats in 'their' trees. My dogs don't let the squirrels mess around with the bird feeders for long anyway! I'm afraid my dogs will knock over any pole bird feeders in my yard, so I don't use those BUT I know that some folks like them because it's harder for a squirrel to get to the bird seed.
Squirrel Proof Bird Feeder
Wild Bill's 8 Station Squirrel Proof Bird Feeder
Birds Choice 12″ Classic Hanging Tube Feeder
Aspects 278 Vista Dome Feeder
Or you can do like I did and feed the squirrels on their own feeders. I know lots of people don't like squirrels, but I think they're hysterical. I set a bit of food out for them too and it seems to help them be less interested in my bird feeders.
Picnic Table Squirrel Feeder
Birds Choice Squirrel Jar Feeder
JCs Wildlife Cedar Squirrel Feeder Swing Made in The USA
Woodlink Squirrel Diner Feeder Model 75590
Now all of my back yard buddies are happier and I get to see everyone from my hummingbird pairs and cardinals, along with the occasional shy little finches. The mockingbirds are better behaved now and so are all the grackles, doves and starlings!
Bird Feeders Accessories
Audubon Wrap Around Squirrel Baffle, 18-Inch – Black
Super Tote, 3-in-1 Bird Seed Storage Container and Tote, 5lb Capacity
Deluxe Squirrel-Raccoon Stopper 18″ Wrap Around Stopper
Bird Feeder Tray, Platform Seed Catcher Accessory Attachment
Bird Feeding Bath Station, Metal Deck Pole for Bird Feeders
12 Inch Rust Resistant Bird Feeder, Plant Hanger. Tree Branch Hook
Stock Up On Wild Bird Seed
It's much more practical and affordable to buy bird seed in bulk for our large capacity bird feeders. I try to pick up a couple of the Morning Song Year Round wild bird food when I can, as it seems to be pretty popular in my back yard.
Do clean out your bird feeders periodically. I like to spray mine out with a vinegar and water mix then rinse and let them dry out. Keeps any yucky stuff from getting a foothold in here and making my birdies sick.
Pennington Pride Red Blend Wild Bird Seed
Wagner's 13008 Deluxe Wild Bird Food, 10-Pound Bag
Wagner's 76027 Black Oil Sunflower, 25-Pound Bag
Wagner's 62059 Greatest Variety Blend, 16-Pound Bag
Decorative Small Bird Feeder Bargains On eBay
Find beautiful backyard bird feeders on eBay. This auction feed is updated automatically, so check back often for the newest and latest auctions, so you're sure to find the best bird feeders for your back yard birds and squirrels. It's quick and easy to bid on your favorite items on eBay!
(Visited 761 times, 1 visits today)