It's time to make sure your emergency kits and supplies are ready any time you need them. Are You Ready For A Natural Disaster?
Planning ahead for natural disasters is easier than you think. Use the emergency preparedness information presented here to assemble your emergency kits and supplies.
The American Red Cross recommends that everyone prepare emergency kits and supplies in case of severe weather. Tornados, tropical storms, hurricanes, wildfires, earthquakes or other natural disasters are the ones we're most familiar with.
While some emergency supplies may seem obvious, there are other things you'll want to include too.
Emergency kits and supplies are an important part of an organized home. So if you don't have these ready, let's get that going for you now.
Here are my basic recommendations for emergency kits and supplies to include in your family's emergency preparation plans, along with some more items I recommend for safety or comfort.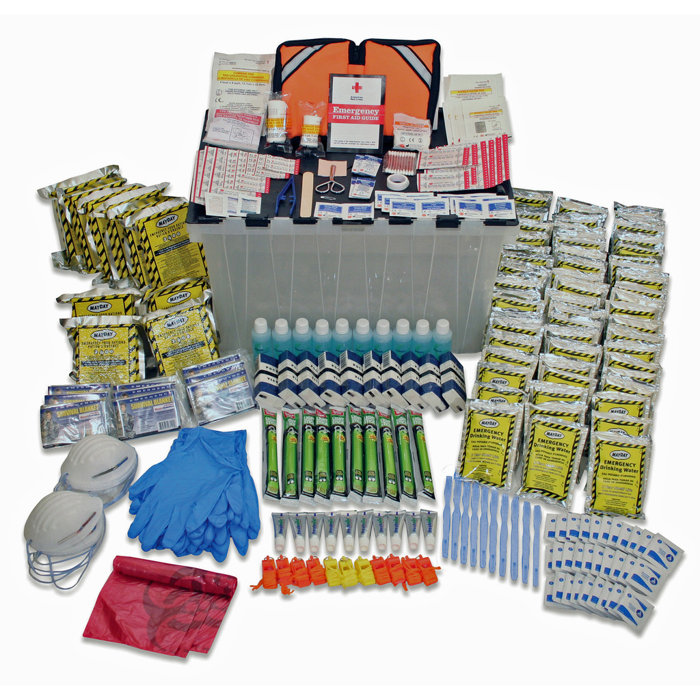 10 Person 3 Day Kit (12-Gal Tote)

Be Prepared for an Emergency
Severe weather is of course the most common, but you can prepare emergency kits and supplies for fires and earthquakes too. Most of the basic 'ingredients' are the same for all.
An important component of being prepared is that emergency disaster supply kit. You'll need these emergency supplies in case of lost power, evacuation orders, etc. Luckily, emergency disaster supply kits are scalable and adaptable when you assemble the contents yourself.
Complete Earthquake Bag – Most Popular Emergency kit for Earthquakes, Hurricanes, floods + Other disasters
Backpacks are a handy way to start an emergency disaster preparation program for your home and family.
If you don't have anything at all, backpack or waterproof bucket kits will get you started. Emergency staff and first responders always say we should keep an emergency supply kit with supplies for at least 3 days (72 hours).
This 2 person emergency supply kit is US Coast Guard approved and contains enough supplies for 2 people for 3 days. The kit has food, water, a first aid kit, and a Hand Crank Flashlight / Radio / Phone Charger.
Here are more examples of emergency disaster supply kits that are available. They can be found in waterproof buckets and backpacks.
Click through and see what items are available in each of them because they can be very different.
Emergency supplies kits like these are huge time savers if you don't want to hunt for all the items you want to include in your own emergency supply kit.
All-in-One 4-Person Premium Disaster Preparedness Survival/Earthquake Kit with 72 Hours of Survival and First-Aid Supplies
Hurricane Disaster/Earthquake Emergency Survival Bug Out Bag – Multi Person 72 Hours of Disaster Preparedness Supplies
Complete Earthquake Bag – Most Popular Emergency kit for Earthquakes, Hurricanes, floods + Other disasters
Basic Emergency Disaster Supplies To Include In A Supply Kit
These basic emergency supplies will be helpful during or after a natural disaster. Those ready made emergency disaster kits are really great, but let's face it. They just don't include everything you need to get through a disaster. But you know what your family needs most.
It's easy to put one together to make sure you have all you need. You can keep this 'kit' put away until you need it too. I have ours on the top shelf of the closet in our den. Every year, all I have to do is refresh the battery supply, pick up extra packaged & canned food, etc.
I use two liter soda or gallon milk bottles, thoroughly washed, for extra water. (Mind you, we keep 4 cases of bottled water for drinking from Walgreens stored on top of the fridge.)
At the beginning of hurricane season, I freeze as many as I can & leave them in the freezer. If the power goes out, my freezer will stay cooler longer. The extra water is also our backup – we drink a lot of coffee and Gatorade powdered mix! LOL
At the end of hurricane season, I use the water in my garden and recycle the bottles. I start the process again the following year.
Let's Make a Survival Kit
I love how this Red Cross video shows how easy it is to get started with an emergency kit. You may already have some of the items around the house, too. Or you can pick them up on your next errand day. The point is to start organizing emergency kits and supplies for your family. Your particular circumstances and locations can spur more ideas for your kits.
Wait, so where are you going to put all this stuff? I prefer to keep as much together as possible, so I resort to my favorite handy dandy plastic storage containers. These are my favorites because they're waterproof. I keep our flashlights, lighters, radio, batteries, hand wipes. Essentially, I put everything I can fit in it.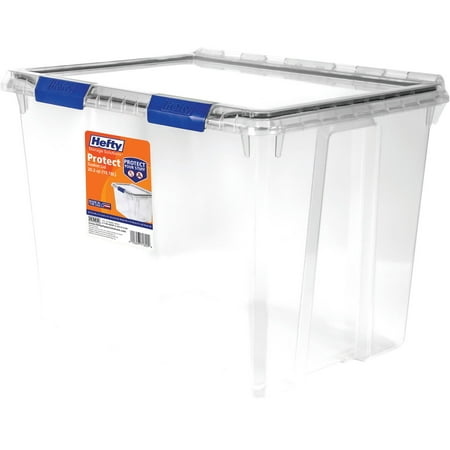 Hefty PROTECT Heavy Duty Storage, 70 Qt. Lid with Protective Seal / Clear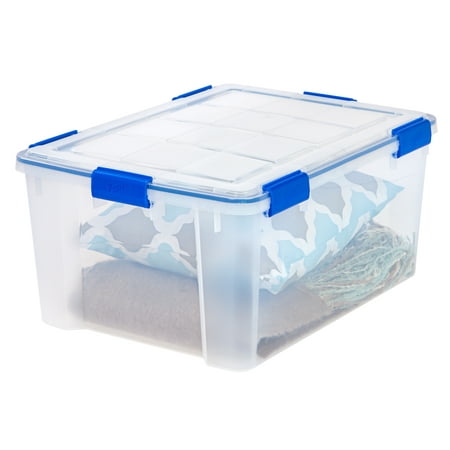 Ziploc 60 Qt./15 Gal. WeatherShield Storage Box, Clear

Don't Forget Special Needs Disaster Supplies
If your family has special needs, you may want to include some or all of the following emergency supplies in your emergency disaster supply kit. Many of these items can be packed in one common duffel bag. Keep all medications away from children. Toys and game for children, with a couple of snacks can be packed in a child's backpack for them to have handy.
Feminine hygiene products
Prescription Medications
Extra glasses
Hearing aid/s and extra batteries
Toys and games for children; books or magazines for adults
Baby formula, baby food, diapers, pacifiers and extra clothes for infants
A good map that includes detailed information for county roads and highways
Portable Charger Anker PowerCore 20100mAh – Ultra High Capacity Power Bank with 4.8A Output, External Battery Pack for iPhone, iPad & Samsung Galaxy & More (Black)
If you have smartphones and tablets, power outages are a problem. We were without power for four days after Hurricane Harvey.
We were lucky in that our neighbor had a generator and invited us to charge our phone and Kindle. I'd always been afraid of generators, LOL. But hers was so easy that I added a generator to our wish list.
As soon as I could, I ordered a power bank for our emergency kit. These are so handy! It's a good idea to have one or more power banks in your emergency kits.
You can keep up with weather alerts on your cellphone like I did. Hubby has two Kindles and is an avid reader. Now we don't have to worry about how to recharge our devices.
I bought this one from Amazon and I love it. Later I saw some over at Walmart at some great prices. At those prices, I may add extra power banks to our kit!
Emergency Preparedness Documents For Your Disaster Supplies Kit
The American Red Cross and other emergency management staff may need to see documents in order to provide assistance depending on where you go and what you need.

Shelters might ask to see identification and maybe proof of residence. If you need medical assistance and you're outside your area, you may need to provide copies of your health insurance policy information.
Copies of important documents and credit cards, drivers licenses, immunization records
A list of your family physicians, a list of your prescription medications,
Copies of health insurance documents,
Model and serial numbers of medical devices like pacemakers, CPAP machines
Copies of the deed to your home or the lease,
Home/fire/flood/wind insurance documents,
Household inventory,
A recent utility bill,
List of family phone numbers and addresses outside the disaster area
Smead All-in-One Emergency Planning Organizer
Grab N Go Essential Document Organizer: The Ultimate Guide
Emergency Preparedness Binder Kit (Sunburst)
How to Make an Emergency Kit
More tips for creating your own emergency kit and supplies. Great ideas!
More About Disaster Emergency Kits
For more information about how to prepare an emergency survival kit, check these links:
Basic Disaster Supplies Kit | Ready.gov
A Natural Disaster Doesn't Have To Be A Disaster For You & Your Family
Before a natural disaster strikes, start working on your emergency disaster supplies kit. Emergency preparedness protects your family and provides comfort in severe weather, a tornado warning or approaching hurricane.
The American Red Cross responds to natural disasters quickly and efficiently. If you have prepared for your own family's needs, then the resources from the American Red Cross can help more people in need.
Emergency management officials in your area will keep you informed, especially of evacuation orders. Know who your local emergency management officials are and how to communicate with them. You, however, are the front line of emergency management for your family.
Emergency Survival Kits On eBay
(Visited 473 times, 1 visits today)