A Household Notebook was one of the best ideas I ever found on the internet for organizing my home and life.
I have a wire-bound daily appointment book that I still keep with me and take everywhere. That goes a long way toward helping keep all the details of life, home, business and medical information under control.
But the idea of using a regular three ring binder to organize everything it takes to live our lives today was a total eye-opener for me.
Do you feel like your life is a hurricane? Job, home, hubby, kids, the dog (or cat)…yikes! It's crazy. Then add handling the family finances and caring for your parents. Yep, crazy life on a stick.
I'm going to show you how to make a household binder for your very own that you can personalize for your own home & family life.
That's what makes it work. A household management binder needs to be customized to your own needs. After all, you're the one that's going to use it.
What's A Household Binder?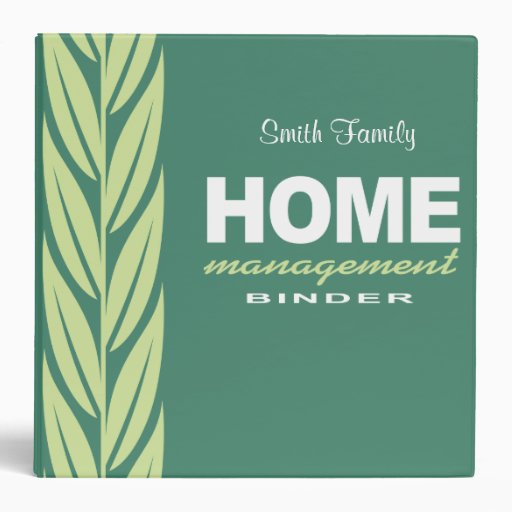 Home management modern personalized binder

A household binder is a handy individualized notebook you can make just for you, your home, your family, your lifestyle and your preferences.
In it, you keep all the details that you need to manage everything on your plate. At it's very simplest, there's a calendar and contact address book.
Add a few handy things to use as tools and you're on your way to conquering that chaos.
The easiest way by far to build a home management binder is to just start with a plain old 3 ring binder and some dividers. Don't worry, we'll get into that in a little while.
(Insert Jeff Foxworthy voice) You might need a household notebook if:
you have phone numbers scattered on little pieces of paper all over the house and you can never find the one you need
you haven't sent Christmas cards in years because your address book is horribly out of date
you don't have a central family calendar to keep track of school activities, home schedules, mom and dad's activities, medical and dental appointments, etc.
you don't have a written set of instructions for your babysitter
you don't have a complete record of information for yourself, your family and/or your pet in case of emergency
These are just the basics, too. There's all sorts of handy information you can keep in your household notebook.
What do you put in a Household Binder?
Here's a few ideas for some of the information you could put in a Household Notebook. Check these out and see if there are other things you might want to keep in it.
Family Information
–For each family member: name, date of birth, social security number (optional), sex, relationship, driver's license number (optional), address, phone number, clothing sizes, etc.
–Pet Information; Depending on how much there is and how many pets you have, you could keep their complete medical records in your Household Notebook.
Important Phone Numbers
–Your local emergency numbers, including the Fire Dept., and Poison Control. I also keep our home, work & cell numbers; our parent's home, work & cell numbers, and any other important family phone numbers.Frequently Called Numbers
— Keep the numbers to your pharmacy, doctor, favorite stores, lawn & garden contractors, house workers, etc. handy in your household notebook in case someone needs to handle things for you.
Other information you might find handy for your Household Notebook could be:
Address/Phone Directory
Babysitter's Checklist
A List Of Birthdays (listed by month)
A List Of Special Occasions (listed by month)
Gift Ideas
Party Planner
Holiday Card Record
How To Build Your Own Household Notebook
There's a few items that you'll want to pick up to set up a household notebook. Let's start by making a list of supplies that are useful but not mandatory.
 A Binder of the size desired; I'm using a 3 ring, 2 inch capacity binder. I picked one of those with the clear plastic covers in front so I could put some artwork in the front and back. I also put a label in the spine.
 Sheet Protectors; I recommend these to protect your pages from fingerprint stains and from the pages getting dog-eared.
 Legal pad, steno pad or other paper just for jotting notes on, especially during the time you're setting it up. Or, just some plain lined 3 hole paper in the front of the binder.
Pen, pencil, markers, stickers; your preference
A clear zip close pouch that has the holes for the binder. You could keep stamps, stickers, post-it notes, coupons, etc in it. This is not required.
Paper. You can use any kind of paper you want. Swipe some of your kids' school paper; use colored paper to print the final versions…it's all up to you. It's YOUR binder.
Home Organization Binder, With Supplies
Create a Household Management Binder
This video is full of great ideas for what to keep in your binder. And don't worry, you don't have to keep everything I have in MY binder or everything ClutterBug has in hers. Take any ideas you read about here or you see in the video/s, and leave the rest. Enjoy! I think she did an awesome job!
More About Organizing With Binders
You can see more of the binders I use for organizing all the different parts of our lives. Yes, I'm binder-crazy. I wouldn't change that though. Everytime my household binder threatened to explode, I made another one so I could thin it down.  This gave me some really good tools for keeping my marbles.  Check these out.
Organize medical information for yourself and your family to avoid the additional stress of searching for it during an emergency.

A kitchen binder helps organize your favorite recipes, your grocery shopping and meal planning. That makes your kitchen binder one of your best tools for organizing your home.

A Christmas Planner is a valuable tool for creating a holiday full of great family memories. Organize your holiday information in one handy binder for easy reference year after year.

More to come!
My Very Favorite Organizing Sites
Eliminate the clutter with Unclutterer, the blog about getting and staying organized.

Tips and downloads for getting things done

Make a power tool for an organized home: a household notebook. Free printables and tips make it easy!
What Do You Use As A Planner/Organizer?
Need Some 3 Ring Binders?
(Visited 442 times, 2 visits today)