Keeping important information about your baby in a babysitter notebook will give you peace of mind. And your babysitter will have a useful resource while they babysit your child.
We all worry about our kids when leaving them with a babysitter. You can ease your own anxiety (at least a little) by making a Babysitter Notebook.
This type of "household notebook" can contain everything from emergency numbers to the kids' schedules to what activities are allowed and what isn't.
And you want to be sure to include safety and medical information, right?
How do you know what to include in your babysitter notebook? That's what I'm going to help you decide. I have tons of tips for making a useful babysitter notebook for your peace of mind.
Help your babysitter know exactly what needs to be done, when, how and according to your instructions.
Your evening out will be more fun and relaxing, even if you do check in once or twice.
How To Make Your Own Babysitter Notebook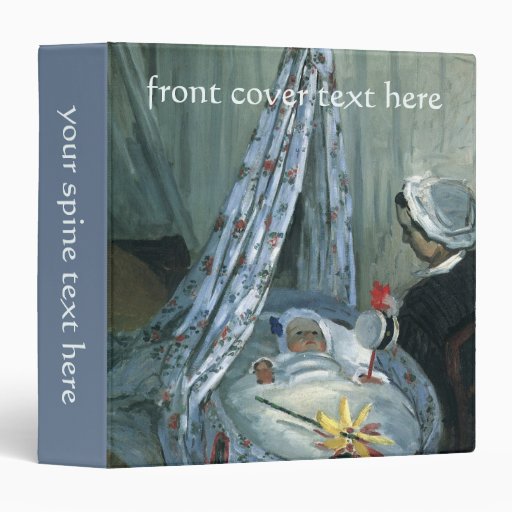 Jean Monet in His Cradle by Claude Monet 3 Ring Binder

We all know that we need to leave emergency contact information for the babysitter. But why not give the sitter a little more information about a few more things?
Anything that could prevent meltdowns or tantrums or other common problems, right? Why not organize the information in a binder that he or she can refer to when they need info?
If you have it in a babysitter notebook, you won't have to rewrite notes every time you get a sitter. You'll have a central location for everything the babysitter could need.
And that will make the babysitting experience a little easier and more pleasant for all involved.
The best way to get started with making a babysitter notebook is to find a cool binder you like. As you know, I love 3 ring binders for organizing my home. You can find one or more in just about every room of my home.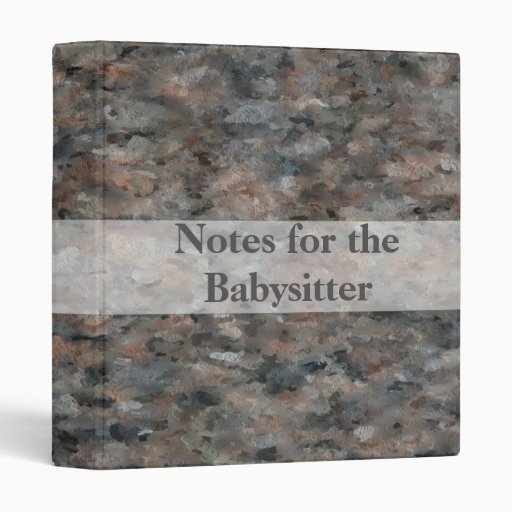 Gray and Pink Granite 4629 Binder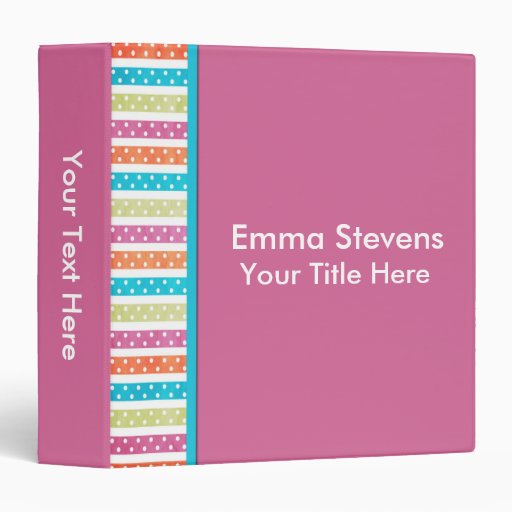 Pretty Lines and Dots 1.5″ Binder

What Information Do YOU Want Your Babysitter To Have Handy?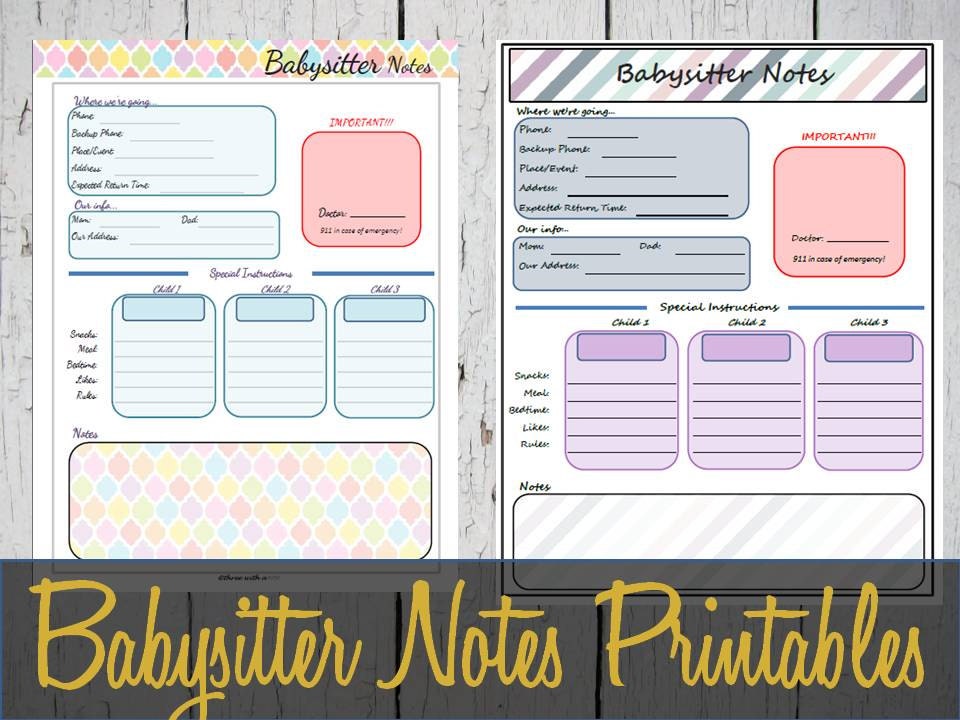 Babysitter Notes Printable Sheet, Babysitter Info – INSTANT DOWNLOAD PDF

I know you want the babysitter to know how to reach you in case of questions or emergencies, of course.
Do you want them to be able to contact a trustworthy neighbor, an aunt or uncle or the children's grandparents? Include the appropriate contact information in the notebook.
Are there special rules in your household? Bedtime, bath time, TV watching, snacking, phone use and video games are just a few that you want to make sure your babysitter understands. Include a page (or more) about what your rules are.
It may help to take a sheet of paper and write down what you want to include in your personalized babysitter notebook. This saves lots of time! Once you have your list the way you want it, you can set aside a little time to create your own individualized pages.

What else can you think of that your babysitter should or must know about taking care of your kids? Write it down for your notebook! Here are some other tips for your babysitter notebook:
What Else To Include In A Babysitter Notebook
I suggest making different pages and/or sections for your babysitter notebook. Include a separate page or section for each topic you want to include in the notebook. That will help you organize the pages in a way that will make sense to the person that needs to use it – the babysitter!
Outline your children's routines, with additional sections for bathing, feeding, laundry, playing, sleeping, etc. Just be sure to keep them up to date!
Any rules for the babysitter regarding their use of the telephone, computer, or TV, having their friends over, etc.
What time is your kids' bedtime?
Are there any chores the kids need to do?
Do you leave the hall light on or is there a night light? Does your child have a favorite toy for bed (teddy, doll, etc.) Where are the pajamas?
What are their favorite foods? Toys? TV shows?
Include an emergency section with numbers for the their pediatrician, the poison control number, police and fire numbers (if you live in a non-911 area).
The easier you can make going to bed when you're not home for your children, the 'easier' the night out will be for all concerned.
The Babysitter's Survival Guide: Fun Games, Cool Crafts, Safety Tips, and More!
Extra Information For Your Babysitter Notebook
Willow Tree sculpted angel, Angel's Embrace
You could draw out a floor plan of your home and mark emergency exits and location of fire extinguishers. Note the location of your family's first aid kit. Also write it out in text below your drawing. "The fire extinguishers are in the kitchen by the fridge, the laundry room and hall closet." The first aid kit is in the bathroom."
Use colored pens or markers to help it stand out visually if you like.
Any food allergies or other medical conditions for each child. Add information about any medications your children are taking. Keep these pages up to date!
Do they need to put in or take out a dental retainer?
Instructions for using any baby equipment ~ like the baby monitor, play pen or high chair.
Information about your pets and their care (if applicable). Are they allowed inside? Are they allowed on the furniture? The kids' beds?
Rules about your children using the phone and/or computer or having friends over while you are gone.
Do you have a security alarm? Type up instructions on how to use it.
Some of this information should already be in your Household Notebook. It doesn't hurt to have it here too.
Do You Like Organizing With Notebooks?
I love keeping things organized in 3 ring binders. I have quite a few around the house. As handy as they are, they were fun to make too. Here are some of the notebooks I have, with a link to a page to show you how to make one. If there's no link, I haven't finished updating it yet. Come back soon!
A Medical Information Notebook; Organize medical information for yourself and your family to avoid the additional stress of searching for it during an emergency.
A Garden Notebook; A garden notebook is a planning tool for gardeners, but it's also a garden journal, garden design book and a super way to organize all your gardening. Build a garden notebook for your gardening fun!
A Bill Paying Notebook; A bill paying notebook helps you keep track of your bills so that you can pay your bills on time and be able to find the organized records when you need them. Organize your bill paying the easy way.
A Household Notebook; A Household Notebook binder could be one of the best gifts you make to organize yourself, your home and your family. Why not build your organized household notebook right now?
A Christmas Planner; A Christmas Planner is a valuable tool for creating a holiday full of great family memories. Organize your holiday information in one handy binder for easy reference year after year.
A Kitchen Binder; A kitchen binder helps organize your favorite recipes, your grocery shopping and meal planning. That makes your kitchen binder one of your best tools for organizing your home.
What Did You Think About My Babysitter Notebook Suggestions?
(Visited 303 times, 1 visits today)